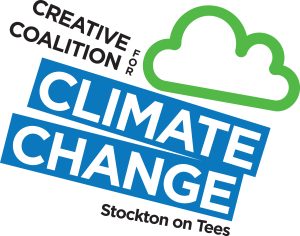 The Creative Coalition for Climate Change is a network of creative people interested in saving the environment and being eco-friendly. It's for people who are exploring environmental responsibility in the way that they work, or in the content of the work that they make.
The coalition aims to connect artists to each other, and open up opportunities to share ideas around how we can all work in a more environmentally responsible way.
Anyone over 18 that lives or works in Stockton on Tees in a creative form is eligible to join. This includes visual, performing, digital, and professional or community based work.
Members will receive information and updates about the Creative Coalition.
To join the coalition, follow the link below and tell us a bit about your creative process and your interest in climate change.
https://www.surveymonkey.co.uk/r/89GVMLF
You can also find the Creative Coalition on Facebook, Twitter, Instagram and LinkedIn.
The Creative Coalition for Climate Change is a Stockton on Tees Borough Council and ARC Stockton initiative.
Exclusive Pizza and Pitches Funding Opportunity for CCCC Members
Pizza and Pitches is currently open exclusively to Creative Coalition for Climate Change members. Find out more about the opportunity here.
If you are eligible to be a Creative Coalition for Climate Change member you are still welcome to sign up and submit an idea.
The deadline for idea submissions is Friday 30 June.