No tickets are currently available.
Dynamic Pricing
ARC's policy is to set ticket prices based on demand, like budget airlines, which means we set a price when the event goes on sale and then sometimes put the price up or down depending on how the show is selling. Usually, the price will increase as we get closer to the event, so it is advantageous to book in advance, although sometimes we will put special offers on and reduce the price. Our website will always show the current ticket price.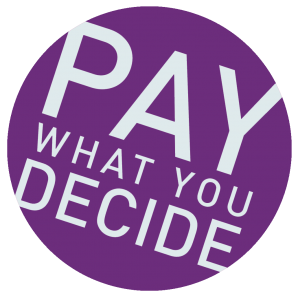 ARC's theatre and dance performances are priced on a Pay What You Decide basis, which means you don't have to pay until after you have seen a show!
We want to encourage more people to come and see shows at ARC, more often. Pay What You Decide not only allows you to pay what you can afford, rather than a fixed ticket price, but also removes the financial risk of buying a ticket for a show in advance without knowing whether you are going to enjoy it or not.
Tickets are available to book in advance as usual, but there is no obligation for you to pay until after you have seen the show. You can then decide on a price which you think is suitable based on your experience, which means if you haven't enjoyed it at all, you don't have to pay anything.
All money collected will help ARC pay the artists who have performed, and we therefore hope you will give generously.
Please ensure you have arrived and collected your tickets 15 minutes before the show starts in order to secure your seats. At the end of the show, you can decide what to pay, either by cash on the door or by card at the Box Office.
Maria Oshodi is a writer, theatre director and disability arts consultant based in London.  Her work is experimental, intersectional, and pushes the artistic and aesthetic boundaries between experience, identity and place. She founded Britain's leading performing arts company of visually impaired artists, Extant, and collaborates with other artists, freelancing on a number of independent arts projects.
Her current project called A Trail of 2 Cities has aimed to research and develop the urban experiences, connections and inspirations shared between two blind artists of colour: Maria from London and poet/actor Lynn Manning from LA.
It aims to consider:
• How two blind artists of colour , who lost their sight in their early twenties, respond to their very different urban spaces: London and LA,
• How they have plotted their personal journeys through their cities, examining the relationship between non-visual street awareness, ethnicity and gender
• How memory and descriptive language creates its own reality in two evolving urban landscapes.
During the week of 24 February Maria will be in residence, developing the piece in the studio space in ARC Stockton, to prepare it for a sharing in April.  She would like to share the story of the development of the piece with local artists, especially disabled artists and those of the global majority.  Please come to join her at the ARC studio from 4.30/6pm on Thursday 27 February to learn about her, and her work, and to share experience of your own practise as independent artists.
If you would like any further information about the session, please email ARC Producer Daniel Mitchelso at [email protected].