No tickets are currently available.
Dynamic Pricing Info
Dynamic Pricing
ARC's policy is to set ticket prices based on demand, like budget airlines, which means we set a price when the event goes on sale and then sometimes put the price up or down depending on how the show is selling. Usually, the price will increase as we get closer to the event, so it is advantageous to book in advance, although sometimes we will put special offers on and reduce the price. Our website will always show the current ticket price.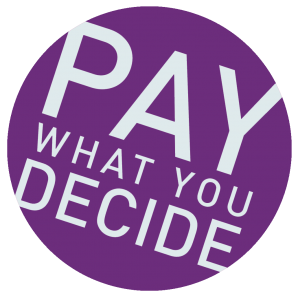 ARC's theatre and dance performances are priced on a Pay What You Decide basis, which means you don't have to pay until after you have seen a show!
We want to encourage more people to come and see shows at ARC, more often. Pay What You Decide not only allows you to pay what you can afford, rather than a fixed ticket price, but also removes the financial risk of buying a ticket for a show in advance without knowing whether you are going to enjoy it or not.
Tickets are available to book in advance as usual, but there is no obligation for you to pay until after you have seen the show. You can then decide on a price which you think is suitable based on your experience, which means if you haven't enjoyed it at all, you don't have to pay anything.
All money collected will help ARC pay the artists who have performed, and we therefore hope you will give generously.
Please ensure you have arrived and collected your tickets 15 minutes before the show starts in order to secure your seats. At the end of the show, you can decide what to pay, either by cash on the door or by card at the Box Office.
Seating: Standing and Allocated Seating
It may seem strange to come out of hibernation during the winter but Amelia Coburn says she feels just like that.
Having spent the past few years studying and travelling and playing around the world it's time for the BBC Young Folk Awards nominee to devote her time to what she does best and deliver on her promise. Evolving from her roots as a purely covers artists (but what covers! Life On Mars, Ghosts Town, Wuthering Heights) she is moving into the realms of a classic songwriter. Her evocative, poetic and beguiling original material seems to come from some mystical wellspring of cosmic music.
Much like her heroes Cole Porter, Paul McCartney and Kate Bush her songs sound like they have been around for eternity yet sound like nobody else. With subject matter ranging from mythical pirate captains, post-mortem revenge, sleep paralysis and other less-trodden paths she manages to weave stories into richly detailed pieces that are, at once, folk infused and familiar yet other-worldly. All delivered in her unique, expressive and often haunting voice and maturing with each song/performance, you really need to catch her live in this intimate setting before she ascends into the songwriter stratosphere.
Visit Amelia Coburn's Website
Follow Amelia Coburn on Twitter
Like Amelia Coburn on Facebook
Follow Amelia Coburn on Instagram
Support comes from Frazer Lambert. Although Stockton born and bred, Frazer crafted his musical skills in the cafes of Amsterdam in the late 90s before taking his songs around the world and back home again. In the early part of the second decade, Frazer took a step back from live music until joining the infamous and much-loved Teesside male voice choir, Infant Hercules.
This inspired him to find his own musical voice again, picking up his dusty guitar and becoming a prolific, soulful alt-folk troubadour. His original songs reflect the history and ever-changing landscape of his native Teesside. Fans of James Taylor, Vin Garbutt and American soul music of the 1960s and 70s will find much to fall in love with in Frazer's voice and music.
Listen to Frazer's music on Bandcamp.
Follow Frazer on Twitter
Follow Frazer on Instagram