No tickets are currently available.
Pay What You Decide Info
An audio drama with captions, BSL and audio description
Running time: 80 mins (with one short break)
Dynamic Pricing
ARC's policy is to set ticket prices based on demand, like budget airlines, which means we set a price when the event goes on sale and then sometimes put the price up or down depending on how the show is selling. Usually, the price will increase as we get closer to the event, so it is advantageous to book in advance, although sometimes we will put special offers on and reduce the price. Our website will always show the current ticket price.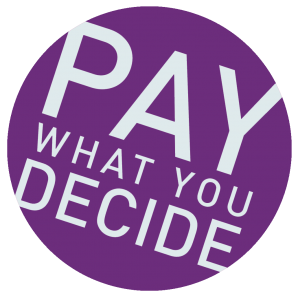 ARC's theatre and dance performances are priced on a Pay What You Decide basis, which means you don't have to pay until after you have seen a show!
We want to encourage more people to come and see shows at ARC, more often. Pay What You Decide not only allows you to pay what you can afford, rather than a fixed ticket price, but also removes the financial risk of buying a ticket for a show in advance without knowing whether you are going to enjoy it or not.
Tickets are available to book in advance as usual, but there is no obligation for you to pay until after you have seen the show. You can then decide on a price which you think is suitable based on your experience, which means if you haven't enjoyed it at all, you don't have to pay anything.
All money collected will help ARC pay the artists who have performed, and we therefore hope you will give generously.
Please ensure you have arrived and collected your tickets 15 minutes before the show starts in order to secure your seats. At the end of the show, you can decide what to pay, either by cash on the door or by card at the Box Office.
Join us for a live online event, celebrating this new work, joined by the cast and writer for a chat and a Q&A – grab a drink and some nibbles and enjoy this exclusive bespoke event via ARC Stockton.
Inside, the ceiling of the storydome in the National Library is creaking under the strain of the books trapped above it. Outside, there is great civil unrest. People are cordoned off in the city square, compartmentalised, the air heavy as protesters chant.
The UnSung is a brand new sci-fi/historic audio performance, written and directed by Vici Wreford-Sinnott with co-creators Mandy Colleran, Caroline Parker, Cheryl Martin and Jacqueline Phillips who also star in the piece. We meet four ordinary extraordinary, eternal women thrown together from parallel worlds. Anonymously elected and plucked from their lives, let in through the only accessible side door, they find themselves as the sole occupants of the mysterious Grand Chamber in the National Library and Archive, which isn't nearly as pompous as it sounds when these women are finished with it. All disabled women over fifty, Josephine is a trickster, Joan is bursting to roar, Eva just wants to get on with it, and Zandra is the collector of one thousand new stories. From far flung places and times in history, the women realise they are The Unsung. Not only are they unsung, but they are disappearing – literally, piece by piece, and the longer it takes to sort out the thousand new stories, the more things fade and vanish completely. A momentous challenge has been set and they are against the clock.
The UnSung team are inviting venues and commissioners to think inventively about how they programme work for our times, ensuring disabled artists and audiences, those with Long Covid and those at significant risk from the virus continue to be included in the cultural landscape. This is one such piece of work -you'll find it uplifting, provocative and pacy while leaving no-one behind.
Access Information – there are some loud sound effects of crowds shouting and the heavy creaking of a building as it strains to hold its contents. We can provide exact timings of these.
The piece is available with and without captions, with BSL and has integral audio description where relevant in the script..
Content Information – The piece does contain adult themes, terms of abuse about disabled people are included, and themes of disability discrimination are explored.
The performance will take place on Zoom, accessed via our dedicated online streaming service. Click here to log in with your usual ARC account details (if you've forgotten your log in details, the email address will be the one that normally receives emails from us, and your password can easily be reset from the log in page).