Dynamic Pricing
ARC's policy is to set ticket prices based on demand, like budget airlines, which means we set a price when the event goes on sale and then sometimes put the price up or down depending on how the show is selling. Usually, the price will increase as we get closer to the event, so it is advantageous to book in advance, although sometimes we will put special offers on and reduce the price. Our website will always show the current ticket price.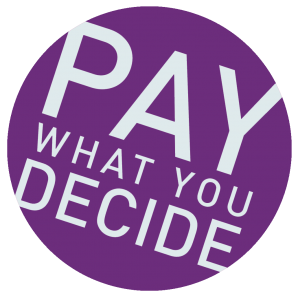 ARC's theatre and dance performances are priced on a Pay What You Decide basis, which means you don't have to pay until after you have seen a show!
We want to encourage more people to come and see shows at ARC, more often. Pay What You Decide not only allows you to pay what you can afford, rather than a fixed ticket price, but also removes the financial risk of buying a ticket for a show in advance without knowing whether you are going to enjoy it or not.
Tickets are available to book in advance as usual, but there is no obligation for you to pay until after you have seen the show. You can then decide on a price which you think is suitable based on your experience, which means if you haven't enjoyed it at all, you don't have to pay anything.
All money collected will help ARC pay the artists who have performed, and we therefore hope you will give generously.
Please ensure you have arrived and collected your tickets 15 minutes before the show starts in order to secure your seats. At the end of the show, you can decide what to pay, either by cash on the door or by card at the Box Office.
The last year has been one that we'll remember for the rest of our lives, and we want to do something special, creative, and personal to commemorate it.
To mark one year since ARC first closed, and lockdown began, we're creating a time capsule filled with snapshots of our lives throughout this moment in history: The highs, the lows, the unforgettable and the everyday.
We're inviting you to contribute material as a lasting record for future generations. You can submit items as an individual, with family, or even with friends from ARC.
The time capsule will be sealed inside a public spot at ARC and will be reopened in 2041. Its location will be marked with artwork created by one of our Artists of Change, Lizzie Lovejoy.
We'd like you to explore the following questions:
What has stood out the most to you about the past year?
What are you most looking forward to doing when things return to normal?
How was your daily life changed by the pandemic?
What memory of quarantining will stay with you most?
How did the events of this year lead you to see your community differently?
What hopes or advice do you have for yourself, or future generations?
What do you think people will have forgotten about this moment in history in the future?
You can contribute things in a physical (no bigger than A4) or digital format. Whether you choose to add your name or any personal details that may be traceable in future is up to you.
You can use these ideas for inspiration:
Photographs (daily life, 'bubbles', before / after, items too big to submit physically)
A letter to your future self – or to a loved one – or even an unknown reader
2D artwork (drawings, paintings, collages, digital art, graphic stories)
Short pieces of writing (poems, daily diary entries, stories, social media posts)
Pieces of music (digitally recorded, music videos, sheet music, or lyrics)
Once you've completed your contribution you can send it to us either by post or by emailing [email protected]
The deadline for submissions is Wed 31 Mar at 10.30am.