No tickets are currently available.
Dynamic Pricing
ARC's policy is to set ticket prices based on demand, like budget airlines, which means we set a price when the event goes on sale and then sometimes put the price up or down depending on how the show is selling. Usually, the price will increase as we get closer to the event, so it is advantageous to book in advance, although sometimes we will put special offers on and reduce the price. Our website will always show the current ticket price.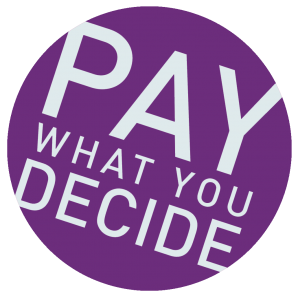 ARC's theatre and dance performances are priced on a Pay What You Decide basis, which means you don't have to pay until after you have seen a show!
We want to encourage more people to come and see shows at ARC, more often. Pay What You Decide not only allows you to pay what you can afford, rather than a fixed ticket price, but also removes the financial risk of buying a ticket for a show in advance without knowing whether you are going to enjoy it or not.
Tickets are available to book in advance as usual, but there is no obligation for you to pay until after you have seen the show. You can then decide on a price which you think is suitable based on your experience, which means if you haven't enjoyed it at all, you don't have to pay anything.
All money collected will help ARC pay the artists who have performed, and we therefore hope you will give generously.
Please ensure you have arrived and collected your tickets 15 minutes before the show starts in order to secure your seats. At the end of the show, you can decide what to pay, either by cash on the door or by card at the Box Office.
General Prices: £16 + £0.10 booking fee per ticket
Seating: Unreserved seated
Bootleg Blondie is the official Debbie Harry and Blondie tribute band and the only Blondie tribute to play the legendary CBGBs in New York City before its demise in 2006. CBGB was the Holy Grail of American Punk and New Wave, where the real Blondie first kicked off their career.
Debbie Harris and Bootleg Blondie have played the Isle Of Wight Festival, the 100 Club, the Hammersmith Palais and the Electric Ballroom in London, Eric's in Liverpool and have opened up for amongst others The Undertones, Slade, Bad Manners, The Beat, Heaven 17, Toyah, Hazel O'Connor, Visage, Bananarama, Altered Images, Howard Jones, Chas and Dave, Tony Hadley and can be seen at all the major venues and festivals around the UK and Europe.
Debbie Harris and the boys have met the real Blondie and are officially endorsed by the band. Debbie Harry got in touch in 2006 when she heard they were playing CBGBs in New York City to wish them good luck. When Clem Burke, Blondie's charismatic drummer, found out they were making a replica of his Premier drum kit, he arranged for the band to meet him to sign the drum kit, which is now used at all of their shows. 
In 2014 Clem invited Debbie and band member Andy to a recording session at the Foo Fighters' famous 606 Studio in Los Angeles, where they saw Clem and the impressive Neve mixing desk in action. The pair even received a congratulary video message from Harry herself when they got married and in 2016 they welcome Clem live on stage to perfom drums with the band. In 2017, their biggest accolade came when Blondie acknowledged the band's talent on their 11th album, Pollinator. 
Debbie Harris has the looks, the voice and the attitude of the original Blondie bombshell and like her heroine is typically outrageous on stage, and her pride and joy is Debbie's guitar which she plays at every show and is signed by all the Blondie members.
Looking for a great bite to eat before the big gig?
Look no further than our cafe bar No 60 for a fantastic place to eat when it comes to pre-gig dining. No 60 offers a modern and vibrant space with a lively atmosphere. Not to mention you won't find a table closer to your seats anywhere in town.
Pick a meal from our monthly bistro menu, where our chefs make use of the finest seasonal ingredients. Or choose your favourite dish from our regular menu.
You can reserve a table by contacting the No 60 team via [email protected] now.