Dynamic Pricing
ARC's policy is to set ticket prices based on demand, like budget airlines, which means we set a price when the event goes on sale and then sometimes put the price up or down depending on how the show is selling. Usually, the price will increase as we get closer to the event, so it is advantageous to book in advance, although sometimes we will put special offers on and reduce the price. Our website will always show the current ticket price.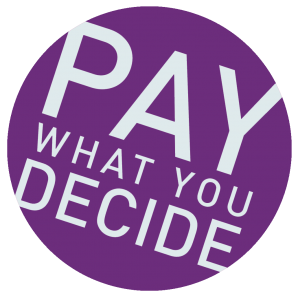 ARC's theatre and dance performances are priced on a Pay What You Decide basis, which means you don't have to pay until after you have seen a show!
We want to encourage more people to come and see shows at ARC, more often. Pay What You Decide not only allows you to pay what you can afford, rather than a fixed ticket price, but also removes the financial risk of buying a ticket for a show in advance without knowing whether you are going to enjoy it or not.
Tickets are available to book in advance as usual, but there is no obligation for you to pay until after you have seen the show. You can then decide on a price which you think is suitable based on your experience, which means if you haven't enjoyed it at all, you don't have to pay anything.
All money collected will help ARC pay the artists who have performed, and we therefore hope you will give generously.
Please ensure you have arrived and collected your tickets 15 minutes before the show starts in order to secure your seats. At the end of the show, you can decide what to pay, either by cash on the door or by card at the Box Office.
Seeing Colour, Feeling Light
We both see and feel light. We see colours because of the way light interacts with physical objects, and we feel light because of the way it sets our biological rhythms and tunes our moods. But although the colours we see start with light and surfaces, they are ultimately made in our minds, and therefore differ from person to person. So too does the way light makes people feel. I'll talk about these dual roles of light and colour in human behaviour, and try to answer some questions: Why are strawberries red even when they reflect blue light? Does blue light make us more alert? Did Monet have unusual colour perception? What is so special about early morning light? Why is green unique?
Professor Anya Hurlbert trained in physics, neuroscience and medicine in the US and UK, and co-founded and directed Newcastle's Institute of Neuroscience for 10 years to 2014. Her research focuses on human colour vision, with applications in digital imaging and novel lighting technologies. She writes and lectures on colour perception and art, is former Chairman of the Colour Group (GB) and Scientist Trustee of the National Gallery and serves on international scientific advisory and editorial boards.
Please contact [email protected] for more information.