No tickets are currently available.
Dynamic Pricing Info
Dynamic Pricing
ARC's policy is to set ticket prices based on demand, like budget airlines, which means we set a price when the event goes on sale and then sometimes put the price up or down depending on how the show is selling. Usually, the price will increase as we get closer to the event, so it is advantageous to book in advance, although sometimes we will put special offers on and reduce the price. Our website will always show the current ticket price.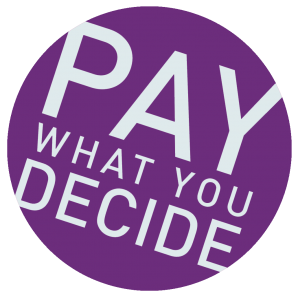 ARC's theatre and dance performances are priced on a Pay What You Decide basis, which means you don't have to pay until after you have seen a show!
We want to encourage more people to come and see shows at ARC, more often. Pay What You Decide not only allows you to pay what you can afford, rather than a fixed ticket price, but also removes the financial risk of buying a ticket for a show in advance without knowing whether you are going to enjoy it or not.
Tickets are available to book in advance as usual, but there is no obligation for you to pay until after you have seen the show. You can then decide on a price which you think is suitable based on your experience, which means if you haven't enjoyed it at all, you don't have to pay anything.
All money collected will help ARC pay the artists who have performed, and we therefore hope you will give generously.
Please ensure you have arrived and collected your tickets 15 minutes before the show starts in order to secure your seats. At the end of the show, you can decide what to pay, either by cash on the door or by card at the Box Office.
Catch 22 starts 2022 with a bang! With MC Matt Reed at the helm, you know you're in for a cracking night. The gin guzzling, Jesus lookalike has the most infectious giggle in the business and is a blooming genius at getting the audience involved.
A highly distinctive performer and deft writer of finely crafted jokes, Peter Brush unassumingly takes the stage with his slight bespectacled frame and scruffy hair, before consummately conquering it with an arsenal of razor sharp quirky one-liners and peerlessly original routines, all delivered in an amusingly awkward fashion.
Seeta Wrightson is taking the comedy circuit by storm, BBC new comedy awards semi-finalist 2021.
MC Hammersmith performs improvised hip hop comedy. He is a freestyle rapper – he raps spontaneously, unscripted, with absolutely no preparation. The lyrics and rhymes of his raps are 100% improvised and based entirely on crowd suggestions. He takes stories and suggestions from audience members, then raps about them at lightning speed. Mind-blowing, hilarious, and completely different every single time,MC Hammersmith is the world's leading gangsta rapper to ever emerge from the ghetto of middle class white west London.
Please note line-ups subject to change