No tickets are currently available.
Dynamic Pricing
ARC's policy is to set ticket prices based on demand, like budget airlines, which means we set a price when the event goes on sale and then sometimes put the price up or down depending on how the show is selling. Usually, the price will increase as we get closer to the event, so it is advantageous to book in advance, although sometimes we will put special offers on and reduce the price. Our website will always show the current ticket price.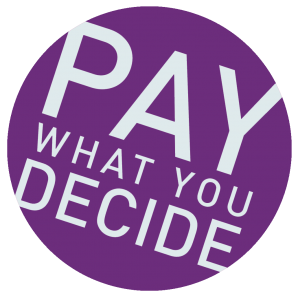 ARC's theatre and dance performances are priced on a Pay What You Decide basis, which means you don't have to pay until after you have seen a show!
We want to encourage more people to come and see shows at ARC, more often. Pay What You Decide not only allows you to pay what you can afford, rather than a fixed ticket price, but also removes the financial risk of buying a ticket for a show in advance without knowing whether you are going to enjoy it or not.
Tickets are available to book in advance as usual, but there is no obligation for you to pay until after you have seen the show. You can then decide on a price which you think is suitable based on your experience, which means if you haven't enjoyed it at all, you don't have to pay anything.
All money collected will help ARC pay the artists who have performed, and we therefore hope you will give generously.
Please ensure you have arrived and collected your tickets 15 minutes before the show starts in order to secure your seats. At the end of the show, you can decide what to pay, either by cash on the door or by card at the Box Office.
General Prices: Free but booking is essential
The Cultural Shift Conviva, meaning sharing of a feast, aims to give lots of food for thought and a means of creating practical actions we can all implement. Disabled artists and practitioners will talk about the context of disabled-led practice, and offer bite-size provocations to to invite discussion and seek solutions. Whether you are a disabled practitioner, or a company or venue wanting to include disabled people in your work, we are sure there will be something of value for everyone.
We will share our Cultural Shift working model, look at increasing and improving opportunities for disabled people in both professional and participatory work, and explore how to better support disabled artists. With information, encouragement and provocations from a range of key disabled practitioners and professionals, we will look at how you can get started, and how you can support artists to move on to the next stages of their careers. Disabled artists will have the chance to discuss the evolution of content, aesthetics and access, and also examine the impact of mainstreaming on disability identity in all its diversity.
Some of the fantastic people presenting are Deborah Williams (CEO, The Cultural Diversity Network – Broadcasting), Simon Startin (award-winning playwright and theatre director), Dolly Sen (award-winning writer, artist, performer and filmmaker), Michèle Taylor (Director of Change – Ramps on the Moon),  Jo Verrent (Senior Producer, Unlimited), reflections on the day from Aidan Moesby (national and international artist, curator and writer) and Tammy Reynolds (writer, performer and producer at DaDaFest), Paul Wilshaw (actor at Mind the Gap and independent theatre maker) will talk about his exciting new piece of work developed in residency at ARC. There will be comedy and also a sharing of an excerpt of Another England by Vici Wreford-Sinnott.
Schedule
10.30am     Registration
11.00am     Welcome by Lynne Snowball Setting the scene with Vici Wreford-Sinnott Cultural Shift overview with Annabel Turpin and Vici Wreford Sinnot
11.30am     Keynote, Deborah Williams
11.40am     Visitor provocations:
Getting Started – Julie McNamara
Emerging Forever – Simon Startin
Spectacle – Dolly Sen
Identity – gobscure
Round table discussions lead by Jo Verrrent, Michèle Taylor, Nickie-Miles Wildin and Vici Wreford-Sinnott
1.20pm       Lunch
2.10pm       A word from our funders – Amy Finch, Spirit of 2012
2.20pm       Performance by Laurence Clark; A Pitch and Position Presentation Reflection by Cultural Shift Artist Paul Wilshaw; Full Circle – a short film; Reflection by Cultural Shift participant Emily Wilkinson; Participation – a short film
3.30pm       Break
4.00pm       Excerpt from Another England by Vici Wreford-Sinnott; Visitor reflections by Tammy Reynolds and Aidan Moesby; Feedback, reflections, action networking.
6.00pm       Close