No tickets are currently available.
Dynamic Pricing
ARC's policy is to set ticket prices based on demand, like budget airlines, which means we set a price when the event goes on sale and then sometimes put the price up or down depending on how the show is selling. Usually, the price will increase as we get closer to the event, so it is advantageous to book in advance, although sometimes we will put special offers on and reduce the price. Our website will always show the current ticket price.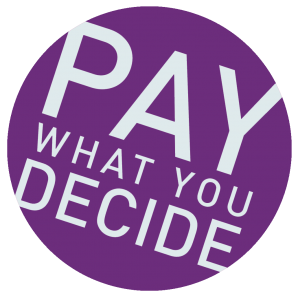 ARC's theatre and dance performances are priced on a Pay What You Decide basis, which means you don't have to pay until after you have seen a show!
We want to encourage more people to come and see shows at ARC, more often. Pay What You Decide not only allows you to pay what you can afford, rather than a fixed ticket price, but also removes the financial risk of buying a ticket for a show in advance without knowing whether you are going to enjoy it or not.
Tickets are available to book in advance as usual, but there is no obligation for you to pay until after you have seen the show. You can then decide on a price which you think is suitable based on your experience, which means if you haven't enjoyed it at all, you don't have to pay anything.
All money collected will help ARC pay the artists who have performed, and we therefore hope you will give generously.
Please ensure you have arrived and collected your tickets 15 minutes before the show starts in order to secure your seats. At the end of the show, you can decide what to pay, either by cash on the door or by card at the Box Office.
Based on a novel by Agatha Christie and featuring Kenneth Branagh, Belgian sleuth Hercule Poirot's Egyptian vacation aboard a glamorous river steamer turns into a terrifying search for a murderer when a picture-perfect couple's idyllic honeymoon is tragically cut short.
The screenings on Sat 12 Mar 5pm, Wed 16 Mar 7.30pm & Thu 17 Mar 2pm will have descriptive subtitles, find out more about subtitled screenings and our accessibility.
BBFC Ratings Information

violence

There are scenes of moderate violence, including shootings and knife slashings. There are also scenes of trench warfare, in which soldiers are hit by gun and mortar fire.

injury detail

There are occasional moments emphasising blood, including a neck wound, as well as the immediate aftermath of an off-screen throat slashing. There is also moderate injury detail, including a soldier's stitched-up facial scar after being caught in an explosion, as well as a bloody bullet wound in a character's temple.

sex

There are moderate sex references, including a scene in which a woman arouses a man using innuendo, who then grinds up against her.

There are verbal references to racism, including second-hand use of the term 'coloured'. Such attitudes are clearly not condoned in the film, however. There are references to suicide. There is also very mild bad language ('hell', 'God' and 'damn').