No tickets are currently available.
Dynamic Pricing
ARC's policy is to set ticket prices based on demand, like budget airlines, which means we set a price when the event goes on sale and then sometimes put the price up or down depending on how the show is selling. Usually, the price will increase as we get closer to the event, so it is advantageous to book in advance, although sometimes we will put special offers on and reduce the price. Our website will always show the current ticket price.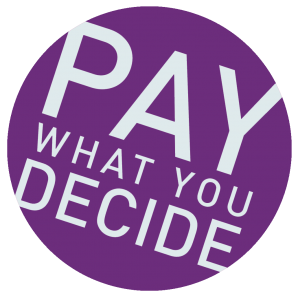 ARC's theatre and dance performances are priced on a Pay What You Decide basis, which means you don't have to pay until after you have seen a show!
We want to encourage more people to come and see shows at ARC, more often. Pay What You Decide not only allows you to pay what you can afford, rather than a fixed ticket price, but also removes the financial risk of buying a ticket for a show in advance without knowing whether you are going to enjoy it or not.
Tickets are available to book in advance as usual, but there is no obligation for you to pay until after you have seen the show. You can then decide on a price which you think is suitable based on your experience, which means if you haven't enjoyed it at all, you don't have to pay anything.
All money collected will help ARC pay the artists who have performed, and we therefore hope you will give generously.
Please ensure you have arrived and collected your tickets 15 minutes before the show starts in order to secure your seats. At the end of the show, you can decide what to pay, either by cash on the door or by card at the Box Office.
General Prices: Adult: £1.50 Child: £1.50
Duration: 45mins
We know lock down isn't easy on anyone, but there's extra pressure when it comes to finding ways of keeping our little ones engaged and entertained at this trying time. That's why Little and Loud now comes to you at home, with 45min sessions at the usual time.
This session will initially take place on a trial basis, with the ambition of then becoming a regular session if successful. This session is a fantastic activity for parents and children under 5 to play and learn together. Little & Loud is a fun and playful weekly session incorporating songs, music, moving, singing and dancing lead by  experienced community musician.
Sessions begin with "Hello" songs and move on to favourites like Baa Baa Black sheep and other songs picked out from the song bag. The group play with percussion instruments, toys and other props to create gentle, creative and playful experience.
There is also chill-out time at the end of each session to ensure children, and their parents, leave feeling relaxed and rejuvenated.
What to expect?
You can expect the same great activities as you would when you normally attend the sessions in person, delivered via Zoom with a slightly shorter session time to make sure it's not too long for shorter attention spans.
What you need to know before you book.
Advanced booking is essential and spaces are limited. Prices are per participant, not per device so please make sure to book for the number of people taking part. Once you've booked we will confirm your place on the session.
Booking closes at 1pm on Tuesday afternoon. Once booking has closed you will receive a link and password for that weeks session via the email you used when booking.
What you will need to join the session?
You will need to make sure you are signed up to Zoom and have the latest version of the Zoom softwareapp downloaded to your device.
You can sign up to Zoom for free. The Zoom Client for Meetings can been downloaded for desktop, IOS, and Android here: https:zoom.usdownload
I'm having trouble booking online?
If you are having issues booking via the website you can contact our Box Office team on 01642 525199.
Our Box Office team are currently working remotely with reduced staffing so please leave a voicemail, making sure to include your name and contact number. We are picking up voicemails periodically and will respond as soon as we can.
Alternatively you can email us via [email protected] with your enquiry.