Book here
Dynamic Pricing
ARC's policy is to set ticket prices based on demand, like budget airlines, which means we set a price when the event goes on sale and then sometimes put the price up or down depending on how the show is selling. Usually, the price will increase as we get closer to the event, so it is advantageous to book in advance, although sometimes we will put special offers on and reduce the price. Our website will always show the current ticket price.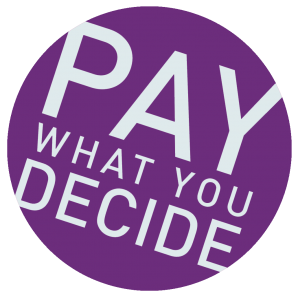 ARC's theatre and dance performances are priced on a Pay What You Decide basis, which means you don't have to pay until after you have seen a show!
We want to encourage more people to come and see shows at ARC, more often. Pay What You Decide not only allows you to pay what you can afford, rather than a fixed ticket price, but also removes the financial risk of buying a ticket for a show in advance without knowing whether you are going to enjoy it or not.
Tickets are available to book in advance as usual, but there is no obligation for you to pay until after you have seen the show. You can then decide on a price which you think is suitable based on your experience, which means if you haven't enjoyed it at all, you don't have to pay anything.
All money collected will help ARC pay the artists who have performed, and we therefore hope you will give generously.
Please ensure you have arrived and collected your tickets 15 minutes before the show starts in order to secure your seats. At the end of the show, you can decide what to pay, either by cash on the door or by card at the Box Office.
Entertain the little ones at home with Protein's fun and fast-moving workshop inspired by their award-winning show The Little Prince!
This creative workshop is an enjoyable way to keep kids active in body and mind. Join performers Faith and Andy as they lead and present twenty minutes of dance and movement exploring the world of the Little Prince. Grown-ups are welcome too as it's fun for all ages!
Find out how the Little Prince spends his days on his tiny planet and how, after journeying across the universe, he eventually meets and befriends the charming Fox.
This is a playful introduction to the world-famous book, The Little Prince, by Antoine de Saint Exupéry, a tale of love and friendship for children and grown-ups alike which will return to theatres later this year.
After the workshop, download the original costume designs from the show and colour in the Little Prince and the Fox either with pencils or digitally on your tablet or phone.
"All grown-ups were once children… but only few of them remember it."
– Antoine de Saint Exupéry
Commissioned by Norden Farm in collaboration with The Place.
To join the workshop, please follow the booking link to be directed to Protein's dedicated Vimeo page.
Once rented, you and and anyone in your household can watch and take part in the workshop on their phone, tablet, laptop or compatible Smart TV at any point for 48 hours after renting.
Age guidance: The workshop has been made with ages 5-11 in mind but has nothing unsuitable for younger siblings. Fun for the whole family.
Schools and charitable organisations: please email [email protected] for more booking information.