No tickets are currently available.
Pay What You Decide Info
Age: 16+
Dynamic Pricing
ARC's policy is to set ticket prices based on demand, like budget airlines, which means we set a price when the event goes on sale and then sometimes put the price up or down depending on how the show is selling. Usually, the price will increase as we get closer to the event, so it is advantageous to book in advance, although sometimes we will put special offers on and reduce the price. Our website will always show the current ticket price.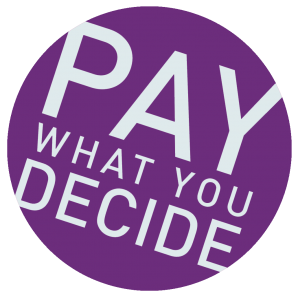 ARC's theatre and dance performances are priced on a Pay What You Decide basis, which means you don't have to pay until after you have seen a show!
We want to encourage more people to come and see shows at ARC, more often. Pay What You Decide not only allows you to pay what you can afford, rather than a fixed ticket price, but also removes the financial risk of buying a ticket for a show in advance without knowing whether you are going to enjoy it or not.
Tickets are available to book in advance as usual, but there is no obligation for you to pay until after you have seen the show. You can then decide on a price which you think is suitable based on your experience, which means if you haven't enjoyed it at all, you don't have to pay anything.
All money collected will help ARC pay the artists who have performed, and we therefore hope you will give generously.
Please ensure you have arrived and collected your tickets 15 minutes before the show starts in order to secure your seats. At the end of the show, you can decide what to pay, either by cash on the door or by card at the Box Office.
*This event can be attended in person or watched online. Book to watch online using the booking button on this page, or book here to attend in person*
What is The Smog? Good question. About 3 years ago I drew a picture of a man falling from the top of The Swallow Hotel in Stockton High Street.I gave him a name – Charlie Smog.I gave him a job – Doyle Hunter.Then I watched him fall.
The Smog has been living inside me for some time now, clawing at my dark, grey matter and invading every creative nook and cranny with pictures, plot-lines and its infinite possibilities… slowly wrapping its black-green tendrils around my every waking moment. I need to exorcise this demon immediately, as at the time of writing I am half man, half smog…
This isn't a traditional piece of theatre; it's organised chaos.
It relies on lo-fi special effects, handmade puppets, and me on stage with a wild look in my eye, careering towards a dramatically uncertain finale.
This rough and ready, sci-fi noir is a futuristic fairy tale that draws inspiration from Bladerunner, Mighty Boosh and Twin Peaks, so expect an absurd, free-wheeling narrative, mind-bogglingly simplistic science fiction, and an elderly cocker spaniel called Janet.
I'm incredibly proud of the work we've created and I can't wait to share it with you for a one off performance at ARC, Stockton.
Dare you look inside the Smog?
"Teesside Surreal is A Thing. Scott Turnbull is its king" (Kirsten Luckins – North East Artist Development Review)
Please note: If you haven't joined us for a 'Pay What You Decide' event before, this means that tickets can be booked in advance as usual, but there is no obligation to pay until after you have watched. While we're very grateful for general donations made to ARC at the time of booking, please be aware that only payments made as part of the Pay What You Decide process at the end of the performance can be counted as part of your Pay What You Decide payment. Details of how you can make your payment will be emailed to you after the show and will also be made available via our social media channels.
Access to the performance is via our dedicated online streaming service. Click here to log in with your usual ARC account details (if you've forgotten your log in details, the email address will be the one that normally receives emails from us, and your password can easily be reset from the log in page).
Follow Scott Turnbull on Twitter
Like Scott Turnbull's Content Hole on Facebook
Follow Scott Turnbull on Instagram
Follow Tales from The Smog on Instagram