No tickets are currently available.
Age: 3-7 years
Dynamic Pricing
ARC's policy is to set ticket prices based on demand, like budget airlines, which means we set a price when the event goes on sale and then sometimes put the price up or down depending on how the show is selling. Usually, the price will increase as we get closer to the event, so it is advantageous to book in advance, although sometimes we will put special offers on and reduce the price. Our website will always show the current ticket price.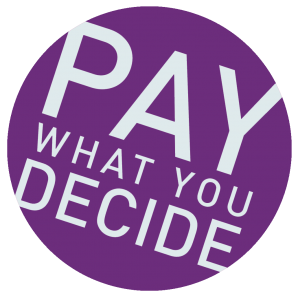 ARC's theatre and dance performances are priced on a Pay What You Decide basis, which means you don't have to pay until after you have seen a show!
We want to encourage more people to come and see shows at ARC, more often. Pay What You Decide not only allows you to pay what you can afford, rather than a fixed ticket price, but also removes the financial risk of buying a ticket for a show in advance without knowing whether you are going to enjoy it or not.
Tickets are available to book in advance as usual, but there is no obligation for you to pay until after you have seen the show. You can then decide on a price which you think is suitable based on your experience, which means if you haven't enjoyed it at all, you don't have to pay anything.
All money collected will help ARC pay the artists who have performed, and we therefore hope you will give generously.
Please ensure you have arrived and collected your tickets 15 minutes before the show starts in order to secure your seats. At the end of the show, you can decide what to pay, either by cash on the door or by card at the Box Office.
Seating: Unallocated - Theatre Style
This Christmas join the Man in the Moon on a journey to a little known planet called Earth, where Alba Dinkley is shooting for the stars and planning to enter the Space Race!
Will Alba's rocket even make it off the ground? Will anyone believe that the smallest of space explorers can do it? Will Alba's Dad ever stop worrying? Spluttering spacedust!
Join us on a cosmic adventure to Outer Space with the Man in the Moon as your guide!
A space adventure of discovery, individuality and believing in yourself. For 3-7 year olds and their grown ups. Exploding with rocking music, puppets and a smattering of space facts and science fiction.
Devised and written by: Bob Nicholson, Hannah Goudie-Hunter & Ruth Mary Johnson
Directed by: Ruth Mary Johnson
Music by: Jeremy Bradfield
Design by: Alison Ashton
Puppets by: Georgia Hill
All shows are relaxed performances. You can find out more about relaxed performances here.
BSL interpreted performances at 2pm on Sat 11 Dec and 11am on Thu 23 Dec.
Access
Planning your trip to ARC to see The Tin Foil Astronaut? Here's Bob Nicholson from Kitchen Zoo and the wonderful Caroline Ryan to give you a tour, so you know what to expect when you arrive:
And before blasting off with The Tin Foil Astronaut, why not learn the songs before the show?
Rocket Queen
My Name Is Alba Dinkley
From Way Up Here