No tickets are currently available.
Age: 4+
Dynamic Pricing
ARC's policy is to set ticket prices based on demand, like budget airlines, which means we set a price when the event goes on sale and then sometimes put the price up or down depending on how the show is selling. Usually, the price will increase as we get closer to the event, so it is advantageous to book in advance, although sometimes we will put special offers on and reduce the price. Our website will always show the current ticket price.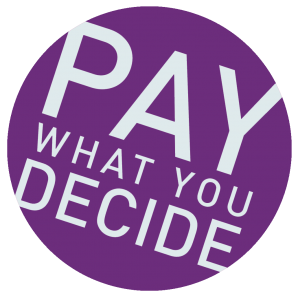 ARC's theatre and dance performances are priced on a Pay What You Decide basis, which means you don't have to pay until after you have seen a show!
We want to encourage more people to come and see shows at ARC, more often. Pay What You Decide not only allows you to pay what you can afford, rather than a fixed ticket price, but also removes the financial risk of buying a ticket for a show in advance without knowing whether you are going to enjoy it or not.
Tickets are available to book in advance as usual, but there is no obligation for you to pay until after you have seen the show. You can then decide on a price which you think is suitable based on your experience, which means if you haven't enjoyed it at all, you don't have to pay anything.
All money collected will help ARC pay the artists who have performed, and we therefore hope you will give generously.
Please ensure you have arrived and collected your tickets 15 minutes before the show starts in order to secure your seats. At the end of the show, you can decide what to pay, either by cash on the door or by card at the Box Office.
*Book early and save! Get tickets to our Christmas show, The Snow Queen (Tue 6 – Sat 24 Dec), for just £7.50 each when booking tickets for The Zoo That Comes To You*
The Zoo That Comes To You follows the impassioned attempts of two animal enthusiasts to share their love of and concern for animals with the world. They have spent the last eight years taking in animals that need respite, care or a temporary home and have, accidentally, ended up with a sanctuary full of animals. However, no-one has come to visit their zoo! So everybody – animals and humans alike – have decided it is time to get out, see the world, and bring the zoo, to you.
Come and meet this eclectic group of charming yet cheeky animals, as they discuss their life experiences and the challenges they face in a rapidly changing world dominated by humans. These animals have a lot to say and want to inspire people of all ages to take action, because they know small actions can make a big difference in the world.
Featuring puppetry, live music and playful characters, Scarlet Oak Theatre welcomes you to join the conversation about animal conservation.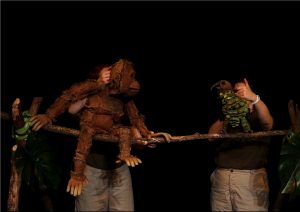 Age Guidance: 4+ Though younger audiences and unaccompanied grownups will be warmly welcomed too.
Running time: 60 minutes
All shows are relaxed performances. You can find out more about relaxed performances here.
ARC Staff Pick: Fiona | Sales and Events Manager
"I am really looking forward to seeing The Zoo That Comes to You. The puppets look absolutely incredible. I think children of all ages, and adults alike will love them! The story sounds really fun with some serious themes around conservation. I can't wait!"
Visit Scarlet Oak Theatre's website
Follow Scarlet Oak Theatre on Twitter
Like Scarlet Oak Theatre on Facebook
Follow Scarlet Oak Theatre on Instagram
*Book early and save! Get tickets to our Christmas show, The Snow Queen (Tue 6 – Sat 24 Dec), for just £7.50 each when booking with any family show from our spring 2022 season: The Zoo That Comes To You; Jack, Jill and the Landfill; Stan; SLIME; The Not So Ugly Sisters; Oldilocks and the 3 Bears*