No tickets are currently available.
Pay What You Decide Info
Dynamic Pricing
ARC's policy is to set ticket prices based on demand, like budget airlines, which means we set a price when the event goes on sale and then sometimes put the price up or down depending on how the show is selling. Usually, the price will increase as we get closer to the event, so it is advantageous to book in advance, although sometimes we will put special offers on and reduce the price. Our website will always show the current ticket price.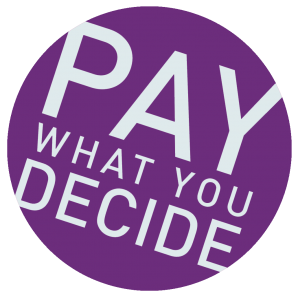 ARC's theatre and dance performances are priced on a Pay What You Decide basis, which means you don't have to pay until after you have seen a show!
We want to encourage more people to come and see shows at ARC, more often. Pay What You Decide not only allows you to pay what you can afford, rather than a fixed ticket price, but also removes the financial risk of buying a ticket for a show in advance without knowing whether you are going to enjoy it or not.
Tickets are available to book in advance as usual, but there is no obligation for you to pay until after you have seen the show. You can then decide on a price which you think is suitable based on your experience, which means if you haven't enjoyed it at all, you don't have to pay anything.
All money collected will help ARC pay the artists who have performed, and we therefore hope you will give generously.
Please ensure you have arrived and collected your tickets 15 minutes before the show starts in order to secure your seats. At the end of the show, you can decide what to pay, either by cash on the door or by card at the Box Office.
Reclamation
noun
⁃ the process of claiming something back or of reasserting a right
⁃ "the reclamation of our shared history"
Join Bordello Collective and friends as they weave lip syncs, live electronica, music and movement into a tapestry of tantalising camp contemplation on how we might all begin to reassert and reclaim our place in a 'post Covid' world.
We The Queers is an alt drag and cabaret platform curated by the Bordello Collective. Live editions have been staged at The Auxiliary and Disgraceland in Middlesbrough and during lockdown We The Queers have hosted 7 social media livestream editions entitled 'At Home With…'. This 'live livestream' edition of We The Queers is being especially curated for ARC.
Bordello Collective are a Queer arts group based in Teesside. Masters of making work that responds to space, place and people, the collective's artists each work across a range of diverse mediums. Platforming LGBT+ and Queer expression in the North their work is cross media, performative, interactive and immersive. They produce work through collaborative processes curating and presenting it in a range of unlikely places and spaces for a wide spectrum of people.
Acts taking part in this livestream are:
Quiches Lorraine
Pretentious Dross
The Bollywitch
Kaulana Lynn Williams
Factory Reset
PHATSY
TIN FOIL
Venus Retrograde
Recommended age guidance: 14+
Please note: If you haven't joined us for a 'Pay What You Decide' event before, this means that tickets can be booked in advance as usual, but there is no obligation to pay until after you have watched. While we're very grateful for general donations made to ARC at the time of booking, please be aware that only payments made as part of the Pay What You Decide process at the end of the performance can be counted as part of your Pay What You Decide payment. Details of how you can make your payment will be emailed to you after the show and will also be made available via our social media channels. The suggested amount for this event is £8, but the price you pay is completely up to you.
Access to the performance is via our dedicated online streaming service. Click here to log in with your usual ARC account details (if you've forgotten your log in details, the email address will be the one that normally receives emails from us, and your password can easily be reset from the log in page). If you can't watch live at 8pm on Saturday, your ticket will give you access to the recording of the performance until midnight on Sun 25 Apr.