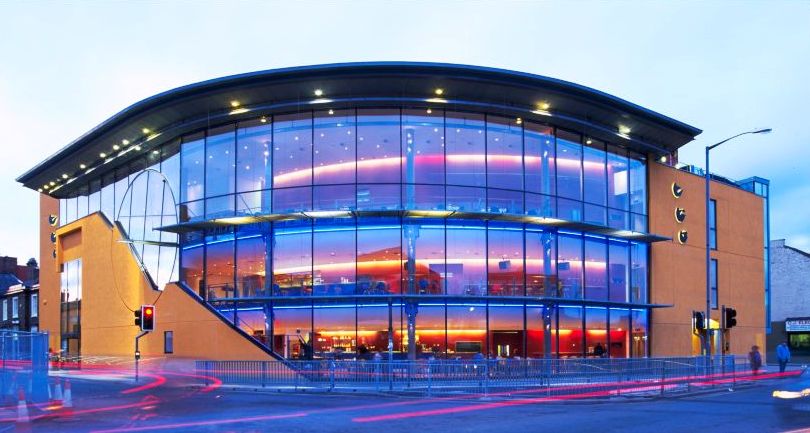 Here at ARC we welcome thousands of customers every year to a wide range of performances, activities, community events and more. It is always brilliant when we receive great feedback, but we don't always get the chance to share these lovely comments widely.
We decided to ask you what you loved most about ARC so below are the top ten things you told us!
1. 'There is an excellent range of things to experience at ARC.'
You may have visited us in the past to attend a comedy, music or family performance perhaps, but did you know what else goes on in the building on a regular basis?
We screen the latest blockbusters as well as independent and world films in our intimate cinema, with a special loyalty scheme for regular attenders and pre-show meal offers. We offer workshops and regulars classes everyone from babies (Little and Loud), to young people (ARC YP), to adults (Try it at ARC) to disabled people (Cultural Shift) to over 50s (Silver programme). Alongside our music, comedy and performances for family audiences, we also present some of the newest and most exciting theatre and dance work each season. We support theatre artists from across the country to make new work, and also co-commission shows with venues. We have a community exhibition programme, showing work by local artists and hire out our spaces for a huge range of community-led events, as well as corporate events, meetings and training. We also have our own café bar, No 60, which serves a selection of hot and cold dishes and a wide range of drinks.
This is just a taste of what goes on each week, you can keep up to date with everything that is happening in the building by signing up to our mailing list.
2. 'Lovely and super helpful staff.'
We currently employ around 50 members of staff, working at ARC in departments which include programming, marketing, box office, finance, catering, front of house, technical and No 60.
We regularly provide staff with training opportunities, and we take great care in providing excellent customer service to everyone.
Some staff are currently attending a 10 week BSL course as part of our commitment to enabling staff to communicate with all members of the public, regardless of their access requirements. 
3. 'Pay What You Decide has enabled me to see more drama performances.'
Since January 2015 we have applied a Pay What You Decide pricing policy to all performances in our theatre and dance programme. This means you book tickets in advance in the usual way, but don't pay until after the show – and then you decide how much you pay based on your experience of the show. After an initial six month trial, we were pleased to confirm that the policy had been a great success, enabling more customers to take a risk and see new theatre work, and we have continued using it ever since. 60% of customers said that they came more often, and 30% said PWYD enabled them to bring other people – which is fantastic! It is great to see that the policy has been rolled out in other venues in the UK and beyond.
4. 'No 60 offers a great menu choice and it is a lovely place to relax.'
Launched in summer 2015, No 60 offers a wide choice of dishes which are reasonably priced and the ingredients are locally sourced where possible.
No 60 hosts popular food evenings which are brilliant for nights out with friends or colleagues. Events so far have included Spanish Night, Ghanaian Night, Around the World in Food and Beer and Cocktails and Canapes, as well as monthly Jazz and Tapas evenings.
No 60 serves food all day, so why not pop in next time you are in the town centre? There is also an impressive range of hot drinks including great coffee, craft beers and ciders from around the world, so there is something to take everyone's fancy!
5. 'ARC is a great place to bring the kids and the whole family, we always feel very welcome.'
Not only do we love welcoming families to shows, but we offer a range of different activities and opportunities for all ages.
From weekly Little and Loud sessions for 0 – 5, to creative activities for young people aged 14 – 19 as part of the ARC YP scheme (link), to comedy and music gigs for mums and dads and Silver activities for grandparents – we really do cater for all ages. ARC is also a breast feeding friendly venue.
6. 'It's great to see new drama and spoken word performances on my doorstep.'
We work with a range of theatre makers, writers and performers as part of our Associate Artist scheme to develop new shows, which are then often performed at ARC before touring nationally and internationally.
This means we are offering the chance for people to see high quality new theatre performances at their local venue, without having to travel to nearby cities or further afield.
7. 'The Silver programme has given me a new lease of life.'
Our popular Silver programme runs throughout the year for people aged 50 and over, and offers a range of creative classes such as Tai Chi, Ballet Pilates and Silver Ukulele, as well as the very popular Silver Singers classes.
Being a 'Silver' has led to some remarkable things for some participants.
New friendships have been created, talents have been developed, and one participant says the classes have been 'life changing', which is really fantastic!
8.  'I love the fact you can try new hobbies and activities without the commitment.'
We want people in our local community to try new creative things. But we wanted to help people do this without having to make a long term commitment, with the idea that if they didn't like it, then there was no pressure to continue with the new activity.
So we created Try it at ARC, a series of non-committal one-off creative sessions, such as Glass Making Workshop, Needle Felt Farm, Charleston for Beginners and Swing Dance for Beginners, which all proved to be very popular with people commenting on how the classes are a great way to relax and be creative, without any pressure.Take a look at the upcoming Try it at ARC sessions here.
9. 'The access facilities are brilliant.'
Our access facilities have significantly improved over recent years, and we are committed to continual development. We want everyone who visits ARC to feel welcome in the building, confident in the knowledge that we can assist them should they require it.
We have accessible lifts and adapted toilets on all floors, large print versions of our brochures, and we offer relaxed and BSL interpreted performances and Audio Description for most cinema screenings, we also offer a free ticket for a companion who is attending an event with a person who has additional access requirments. Members of staff from various departments are currently undertaking BSL training too so that we are able to communicate with as many of our customers as possible. 
10. 'No 60 has over 20 flavours of ice cream to choose from!'
And finally… who could resist No 60's 20 flavour ice cream bar! The impressive selection means there is something for all tastes, and there is a range of delectable sundaes, sprinkles and sauces for those with an extra sweet tooth! Delicious flavours include Jaffa Cake, rocky road, mint choc chip, bubblegum, banana, coconut, strawberry, choc chip swirl and ginger – to name just a few! Why not pop in for a scoop or three next time you are in the building and let us know what your favourite flavour is.