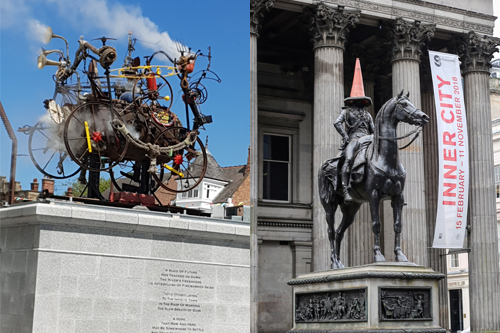 Right: The Stockton Flyer, Stockton. Left: The Duke of Wellington Statue, Glasgow.
When I moved to Stockton from the south side of Glasgow, I really didn't know what to expect.
Leaving behind the Red Road Flats of Gorbals,
The sunny side of Glasgow Green,
Pulsating beats coming out from the Arches at 2am on any given Saturday,
Queens Café in Victoria road, which made – and still does, in my opinion – the most delicious, most scrumptious Italian ice cream my mouth has ever had the privilege of tasting 
My Mums curries! Obvs.
Aunti Gees walking in Shalwar Kamiz, hands filled with bags and bags and bags of stuff!
Turkish Kabab house in the corner of Jamaica street,
A little stereotypical but stating the incontrovertible fact, that, the Fish & Chips shop facing St Enoch Centre does the best deep fried Mars bars.
Served by the owner in his mid 60s, singing countertenor Edith Piaf's No Regrets.
Scotia bar with its juke box and pool,
Tchaiovna for its many different chai's from around the world and its vegan menu,
The Art School for techno,
The Shed,
Kelvingrove Park,
Aston Lane,
Oran Mor and the Tron to mention a few.
My Friends.
My Family!
It would be hard to overstate the difficulty of leaving Glasgow…
But history tells us that Love has made people do many worse things.
STOCKTON,
after a while gave me,
ARC Stockton,
And with that came…
Stockton Calling,
Stockton Stages,
The Storytellers and the KU bar,
Ropner Park,
Drakes book shop,
Flea Market,
The Golden Smog,
The High Street,
Bowesfield lane,
Mosque,
The Stockton Flyer with its smoke, whistles an alarm telling my stomach to get some lunch.
The barber.
Every time I go for a haircut, takes a small and precise draw of Bensons & Hedges Gold, with his broken promises of packing the smoking in at the start of next month, tells me "Top Gone". Things are getting thinner up there you see.
My Friends.
My Family!
(There are many places I am discovering and re discovering every day in Stockton, and if you have any recommendations, please forward them to me)
There are the obvious differences, and the simple similarities. For example, the overarching attitudes of people I find. The notion that if you like someone, you love them unconditionally. They are your friends, they are family. And if you dislike someone for any reason, they know about it.
Honesty.
I'm bridging the things here to things there, to rewrite the present so as not to write off the past. I've found a little Glasgow, in Stockton, for my own.
How To Make A Killing In Bollywood is about friendship. It's about the people and places we know and love, and about the desire paths we dream about. It is about Home.
So obviously there is a place for this show in a place I call home now.
You don't have to like Bollywood to Love How To Make A Killing In Bollywood. I hope you enjoy seeing the show as much as we have making it.  In fact I guarantee, you will have a great time. And if you don't, find me afterwards and I'll buy you a drink!
Umar Butt (Director and co-writer of How To Make A Killing In Bollywood)
You can see How to Make a Killing in Bollywood at ARC on Thursday 6 June at 7pm. Tickets are priced on a Pay What You Decide basis, so you can see the who and pay whatever you thought it was worth at the end.