… is a writer, performer and dramaturg making socially activist theatre that asks big questions with playfulness, both collaborating with other creatives and making her own work. Luca invites an audience to laugh alongside big, contemplative, serious thinkings and feelings. She makes work that explores, plays with, and questions the messy, confusing bits of living. Her first show was about death, her second about politics and her third is about sexual violence. She has worked with sector-leading artists, including Chris Thorpe on Learning How to Die, Paula Varjack on #TheBabyQuestion, and Unfolding Theatre and Selina Thompson on Hold On Let Go. She is an associate artist of ARC Stockton, Unfolding Theatre, and a Third Angel mentee.
Her current show, You Heard Me, is an ARC Stockton production, co-commissioned by Battersea Arts Centre, Cambridge Junction, Theatre in the Mill, Northern Stage and the Albany. You Heard Me is made in collaboration with Maria Crocker, Tanuja Amarasuriya, Melanie Wilson, Bethany Wells and Stephanie McMann, with initial input from Jenni Jackson.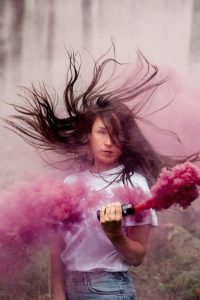 You Heard Me will tour in spring 2022 to:
ARC Stockton, Wed 16 / Thur 17 Feb
Northern Stage, Fri 18 / Sat 19 Feb
Hull Truck Theatre, Wed 2 / Thur 3 Mar
Theatre in the Mill, Bradford, 4 / 5 Mar
Cambridge Junction, Tues 8 / Wed 9 Mar
the Albany, London, 16 / 17 / 18 Mar
Luca has two collaborations on the go at the moment. She is working with Lizzie Klotz on a dance piece with some theatre in it, called a really small dance. She is working with Paula Varjack and Catriona James on a theatre piece with lots of dancing in it, called #thebabyquestion. Previous collaborations include work with Action Transport Theatre, fanSHEN, Maddy Costa, RashDash, and Unlimited Theatre.
What other people have to say about Luca and her work:
'Luca approaches her work with such rigor and generosity – served up with a huge dollop of joy.' – Selina Thompson
'Luca has a performance style that openly invites the audience to consider the big questions alongside her, and brings them along willingly in the process of doing that.' – Chris Thorpe
Visit Luca's website luca-rutherford.co.uk
Follow Luca on Twitter @Lucarutherford
Follow Luca on Instagram @luca_rutherford
Like Luca on Facebook @lucarutherfordtheatre