No tickets are currently available.
Dynamic Pricing
ARC's policy is to set ticket prices based on demand, like budget airlines, which means we set a price when the event goes on sale and then sometimes put the price up or down depending on how the show is selling. Usually, the price will increase as we get closer to the event, so it is advantageous to book in advance, although sometimes we will put special offers on and reduce the price. Our website will always show the current ticket price.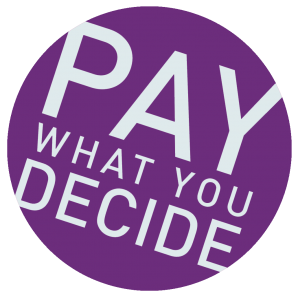 ARC's theatre and dance performances are priced on a Pay What You Decide basis, which means you don't have to pay until after you have seen a show!
We want to encourage more people to come and see shows at ARC, more often. Pay What You Decide not only allows you to pay what you can afford, rather than a fixed ticket price, but also removes the financial risk of buying a ticket for a show in advance without knowing whether you are going to enjoy it or not.
Tickets are available to book in advance as usual, but there is no obligation for you to pay until after you have seen the show. You can then decide on a price which you think is suitable based on your experience, which means if you haven't enjoyed it at all, you don't have to pay anything.
All money collected will help ARC pay the artists who have performed, and we therefore hope you will give generously.
Please ensure you have arrived and collected your tickets 15 minutes before the show starts in order to secure your seats. At the end of the show, you can decide what to pay, either by cash on the door or by card at the Box Office.
Winner of the Academy Award for Best Picture, Best Adapted Screenplay, and Best Supporting Actor, and the BAFTA for Best Screenplay and Best Supporting Actor.
Seventeen-year-old Ruby (Emilia Jones) is the sole hearing member of a deaf family – a CODA, child of deaf adults. Her life revolves around acting as interpreter for her parents (Marlee Matlin, Troy Kotsur) and working on the family's struggling fishing boat every day before school with her father and older brother (Daniel Durant). But when Ruby joins her high school's choir club, she discovers a gift for singing and soon finds herself drawn to her duet partner Miles (Ferdia Walsh-Peelo). Encouraged by her enthusiastic, tough-love choirmaster (Eugenio Derbez) to apply to a prestigious music school, Ruby finds herself torn between the obligations she feels to her family and the pursuit of her own dreams.
All screenings of CODA will be presented with subtitles.
Audio Description is available with screenings of CODA.
Running time: 1hr 52 minutes
BBFC Ratings Info

language

There is infrequent strong language ('f**k'), as well as milder terms such as 'twat', 'bitch', 'dick', 'ass', 'asshole', 'shit', 'screw', 'freaking', 'God', 'hell', 'Christ' and 'damn'. A man makes makes a rude middle finger gesture.

drugs

A man smokes a joint briefly. There are also references to bongs and getting high.

sex

A couple are interrupted as they make love noisily; both are clothed. In a comic scene, a deaf man attempts to give another character advice about safe sex by using his arm and hand to mime the putting on of a condom, the ejaculation into it and discarding the item. A young woman makes suggestive comments and hand movements to describe a sexual encounter. A man uses the phrase "suck my dick" in a dismissive reaction.

Occasional discriminatory remarks, which are not endorsed by the film, are made about deaf people. In one scene, a deaf man is called a 'freak' and reacts to the insult, starting a brief fight in a bar. Mild rude humour includes jokes about farting and skin rashes. A man makes a nervous joke about leaving "a note in case people think it's a joint suicide" as he is challenged by a woman to dive from a high ledge into a waterhole.