No tickets are currently available.
Dynamic Pricing
ARC's policy is to set ticket prices based on demand, like budget airlines, which means we set a price when the event goes on sale and then sometimes put the price up or down depending on how the show is selling. Usually, the price will increase as we get closer to the event, so it is advantageous to book in advance, although sometimes we will put special offers on and reduce the price. Our website will always show the current ticket price.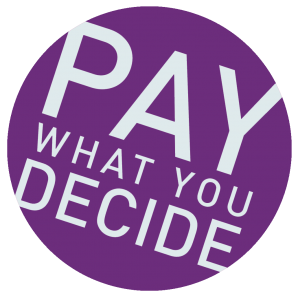 ARC's theatre and dance performances are priced on a Pay What You Decide basis, which means you don't have to pay until after you have seen a show!
We want to encourage more people to come and see shows at ARC, more often. Pay What You Decide not only allows you to pay what you can afford, rather than a fixed ticket price, but also removes the financial risk of buying a ticket for a show in advance without knowing whether you are going to enjoy it or not.
Tickets are available to book in advance as usual, but there is no obligation for you to pay until after you have seen the show. You can then decide on a price which you think is suitable based on your experience, which means if you haven't enjoyed it at all, you don't have to pay anything.
All money collected will help ARC pay the artists who have performed, and we therefore hope you will give generously.
Please ensure you have arrived and collected your tickets 15 minutes before the show starts in order to secure your seats. At the end of the show, you can decide what to pay, either by cash on the door or by card at the Box Office.
An exhibition of contemporary images which brings together eye-witness reportage from the diversity in the streets of the Old City of Jerusalem at the time of the Purim Festival with streetscapes and portraiture from Byker, East Newcastle.
The exhibition also features fine art photography in the form of fractured images and reflections on mortality. The monochrome photoessay of Jerusalem in the day is in stark contrast with the colour from the streets of Byker at night and the large cut-up "Jackie Fractured" together with the triptych "Look No Further This Is It" showcase black and white fine art studio photography. 
David Jones is a photoartist living and working in Saltburn. His solo show, "Face Values", took place at the Menier Gallery, Southwark in 2011 and explored the human gaze through a series of large close up portraits. He retired from his post as Deputy Dean in the School of the Arts at the University of Northampton in 2011 and returned to the North East where his pictures are regularly exhibited at Palace Arts Gallery in Redcar. He now works across the fields of documentary, reportage, candid and street portrait.
As a portraitist he continues to be interested in the human gaze and how a captured glance can reveal aspects of personality and preoccupation, sometimes hinting at darker concerns. As a documentary street photographer he aims to make photographs which show how, when unguarded, people can often dissolve inside themselves – contemplative and seemingly searching – and, in so doing, he reshapes the viewer as an intruder confronting something private, personal, sometimes even bleak. There's always a secret or private narrative behind the image.
The exhibition runs from Sat 9 Mar until Thu 25 Apr.