Dynamic Pricing
ARC's policy is to set ticket prices based on demand, like budget airlines, which means we set a price when the event goes on sale and then sometimes put the price up or down depending on how the show is selling. Usually, the price will increase as we get closer to the event, so it is advantageous to book in advance, although sometimes we will put special offers on and reduce the price. Our website will always show the current ticket price.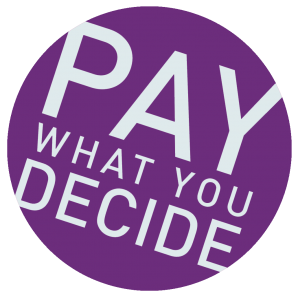 ARC's theatre and dance performances are priced on a Pay What You Decide basis, which means you don't have to pay until after you have seen a show!
We want to encourage more people to come and see shows at ARC, more often. Pay What You Decide not only allows you to pay what you can afford, rather than a fixed ticket price, but also removes the financial risk of buying a ticket for a show in advance without knowing whether you are going to enjoy it or not.
Tickets are available to book in advance as usual, but there is no obligation for you to pay until after you have seen the show. You can then decide on a price which you think is suitable based on your experience, which means if you haven't enjoyed it at all, you don't have to pay anything.
All money collected will help ARC pay the artists who have performed, and we therefore hope you will give generously.
Please ensure you have arrived and collected your tickets 15 minutes before the show starts in order to secure your seats. At the end of the show, you can decide what to pay, either by cash on the door or by card at the Box Office.
Kieran Spiers & Matt Miller are co-collaborators who make contemporary, playful, high quality work that centres around storytelling and autobiography. They make work that explores politics, social issues and audience interaction.
They're developing a new show, Piece by Piece, which is shaping up to be a solo theatre show, performed by Kieran. It combines autobiographical storytelling, confessional narrative, original sound design and poetry to examine trust, mental health and work-life balance. The show asks, 'What trust is in the world today? Where does it arise? What prevents it? What does the world look like without it?' as well as examining how we balance the demands of the world with our lives and loved ones.
They're also playing with audience interaction and task-based performance, using games of Jenga as an interactive tool.
RESEARCH & DEVELOPMENT SO FAR
Piece by Piece is in initial development, stemming from writing created by Kieran through lockdown, and devising frameworks played in rehearsal space. The piece has been shown publicly at Nottingham Playhouse as part of their Amplify Festival in November 2021, and UKNA Festival in February 2022, both performed as a 20-minute work in progress, receiving positive audience feedback ('calm, collected, confident performance', 'beautiful, poignant imagery').
They have received Arts Council England Project Grants to develop the work with development time at ARC Stockton and Attenborough Arts Centre.
During this time, Kieran and Matt will work with different creatives in the room to explore the ideas of the show and what they might become.
CREATIVE TEAM
Piece by Piece is written and performed by Kieran Spiers. Matt Miller will work with Kieran as a director and co-creator of material.
Kieran Spiers is a theatre maker, playwright and director based in Lincoln. Having graduated with a BA in Drama from The University of Lincoln in 2017, Kieran formed Lincolnshire-based theatre company, Chameleon 53, and has collaborated and presented work with Lincolnshire creative over the past two years, including: Lincolnshire One Venues; General Practice; Mansions of the Future; Zest Theatre; Shooting Fish, and The Lincoln Company. He has facilitated scratch and open mic nights at Lincoln Drill Hall and Lincoln Performing Arts Centre as well as delivering artist consultation workshops across the Lincolnshire County on behalf of Transported Art.
He also facilitates the Lincoln MashUp – a monthly networking event for Lincoln artists and creatives, offering a chance to meet, connect and collaborate, keep up to date with local opportunities, news and projects, and attend talks by local and regional artists, discussing their work and giving advice on methods of best practice.
In 2018, Kieran worked as a facilitator and lead artist on the EMERGE Project in Boston, working to give young people in schools a voice and a chance to produce their own artistic event. His short play Distant Sky won the 10X10 New Writing festival commissioned by Chesil Theatre in October 2018 and has been shortlisted for the HERE WE GO Festival in New York.
He is also a New Associate of New Perspectives Theatre Company and has received mentorship from Jack McNamara, Michael Pinchbeck, InGood Company, Third Angel and China Plate.
During 2020 and 2021, Kieran worked on his debut show, The Foundation, which will air as a digital performance as part of UKNA Festival 2022.
Follow Kieran on Twitter
Follow Kieran on Instagram
Matt Miller is a theatre maker and director and has worked in both Nottingham, where they are currently based, and the North East.
Matt has been an artist in residence at Alphabetti Theatre, was one of Live Theatre's inaugural Live Lab Artists, and is a member of Nottingham Playhouse's creative development programme Amplify.
Matt has co-created three solo shows as a writer and performer. Their most recent, Fitting, created with Peader Kirk, recently finished a UK tour, supported by Arts Council England.
As a director and dramaturg, Matt has also worked with various Nottingham based theatre makers, including Neal Pike, whose show Five Years, co-created with Matt, toured in 2019.