No tickets are currently available.
Dynamic Pricing
ARC's policy is to set ticket prices based on demand, like budget airlines, which means we set a price when the event goes on sale and then sometimes put the price up or down depending on how the show is selling. Usually, the price will increase as we get closer to the event, so it is advantageous to book in advance, although sometimes we will put special offers on and reduce the price. Our website will always show the current ticket price.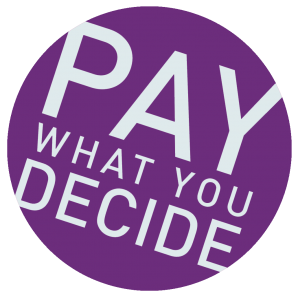 ARC's theatre and dance performances are priced on a Pay What You Decide basis, which means you don't have to pay until after you have seen a show!
We want to encourage more people to come and see shows at ARC, more often. Pay What You Decide not only allows you to pay what you can afford, rather than a fixed ticket price, but also removes the financial risk of buying a ticket for a show in advance without knowing whether you are going to enjoy it or not.
Tickets are available to book in advance as usual, but there is no obligation for you to pay until after you have seen the show. You can then decide on a price which you think is suitable based on your experience, which means if you haven't enjoyed it at all, you don't have to pay anything.
All money collected will help ARC pay the artists who have performed, and we therefore hope you will give generously.
Please ensure you have arrived and collected your tickets 15 minutes before the show starts in order to secure your seats. At the end of the show, you can decide what to pay, either by cash on the door or by card at the Box Office.
Seating: Unallocated - Theatre Style
Neurodiverse comedy, performance, poetry + stuff
In recent years, a theory has emerged that the human race is 'Neurodiverse' – a mix of different neurological types.
Those that aren't 'Neurotypical' (the usual) are known as 'Neurodivergent' with differences that include Autism/Aspergers, ADHD, Bipolar Disorder, Tourette's Syndrome, Dyspraxia, Dyslexia and other types of brain that aren't 'Neurotypical'.
LAVA ELASTIC is a night for brilliant performers who are considered from the 'problematic' to the 'niche', alongside other fantastic acts who are as varied in their styles…as their brains…which of course everyone is – but we choose to celebrate that at LAVA ELASTIC!
Neurodivergent performers often struggle to get booked and to navigate the social codes around working with promoters. As a result, there are many talented people you simply don't get to see. LAVA ELASTIC is here to change that. Vive la difference!…But also the similarities. Neurotypical performers are of course also on the bill.
Thrillingly with the support of Arts Council England…join us for a night celebrating humans of all kinds – just doing their comedy/performance thing.
LAVA ELASTIC is the UK's FIRST openly neurodiverse comedy/performance/poetry night… brought to you by neurodivergent performer and host (late diagnosis of Aspergers) Sarah Saeed, aka operatic comedy diva Marianna Harlotta and original member of Stealth Aspies autistic performance company.
Stretching its way up North for the first time, ARC Stockon's brilliant line up includes: Kate Fox, Lizzie Lovejoy, and Nicola Mantalios as 'Zoe'!
"Lava Elastic is like a TV variety show if TV was allowed to be weird. It's a joyous experience that surprises and delights." Victoria Melody (Award-winning performance artist)