Dynamic Pricing
ARC's policy is to set ticket prices based on demand, like budget airlines, which means we set a price when the event goes on sale and then sometimes put the price up or down depending on how the show is selling. Usually, the price will increase as we get closer to the event, so it is advantageous to book in advance, although sometimes we will put special offers on and reduce the price. Our website will always show the current ticket price.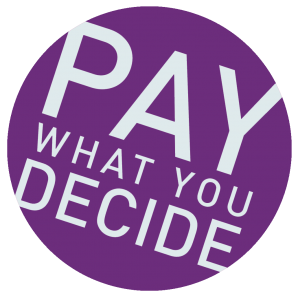 ARC's theatre and dance performances are priced on a Pay What You Decide basis, which means you don't have to pay until after you have seen a show!
We want to encourage more people to come and see shows at ARC, more often. Pay What You Decide not only allows you to pay what you can afford, rather than a fixed ticket price, but also removes the financial risk of buying a ticket for a show in advance without knowing whether you are going to enjoy it or not.
Tickets are available to book in advance as usual, but there is no obligation for you to pay until after you have seen the show. You can then decide on a price which you think is suitable based on your experience, which means if you haven't enjoyed it at all, you don't have to pay anything.
All money collected will help ARC pay the artists who have performed, and we therefore hope you will give generously.
Please ensure you have arrived and collected your tickets 15 minutes before the show starts in order to secure your seats. At the end of the show, you can decide what to pay, either by cash on the door or by card at the Box Office.
Are you a trained cultural industries creative from the Class of 2020 or 2021, ready to get your work and skills out there professionally?
Are you in need of free expert support and guidance from experienced industry professionals to help you succeed in your chosen career?
Do you want to be part of a thriving, skilled cultural community and discover employment opportunities, network with other creatives, gain professional insights and meet new collaborators?
Tees Valley New Creatives is a ground-breaking, exciting, and career launching programme of free support to help talented professionals newly out of training to secure employment and unlock new opportunities in their field.
Developed in direct response to the challenges facing the Classes of 2020 and 2021 and the culture sector due to the coronavirus pandemic, the new Tees Valley New Creatives network has been tailored to help those trained across the cultural industries sector, such as performers, artists, producers, technicians and more. It offers the chance to connect with other early-career creatives and access hours of valuable industry know-how.
As a member you'll have access to exclusive social media platforms, regular online masterclasses, talks, webinars, and workshops from leading professionals and some of the most exciting voices in the sector, plus in-person (where guidance allows) social events featuring guest creatives.
You will be able to gain valuable insights to help you into cultural work, covering everything from building a successful freelance career (including the logistics of funding and legalities, approaching companies or clients, and developing eye-catching self-marketing) to coping with anxiety, developing resilience strategies and building social confidence. Plus you'll have the chance to inform the content to tailor it to your needs.
The programme is funded by the Tees Valley Mayor and Combined Authority as part of their £1m Recovery Programme for the Cultural Industries and Visitor Economy. It has been co-designed with The Northern School of Art, Teesside University, and Stockton Riverside College; and will be delivered by a wide range of creative industry professionals under the leadership of ARC, Stockton Arts Centre.
If you:
Completed training in ANY creative specialism in the Tees Valley, as part of the Class of 2020 or Class of 2021
Trained, or live in the Tees Valley
Are currently not in full-time education
Are any age over 18 (but consider your creative career to be in its youth)
Are ready to work in the cultural industries
Download the TVYC Launch Your Creative Career Info Pack.
Sign up to join Tees Valley New Creatives.
The next Tees Valley New Creatives networking event takes place on Thursday 13 January from 7pm – 8.30pm.
Book your place at the next networking event online. You can also book a place by calling our Box Office on 01642 525199.
If you have any access requirements in order to attend the launch, please let us know when booking.