Dynamic Pricing
ARC's policy is to set ticket prices based on demand, like budget airlines, which means we set a price when the event goes on sale and then sometimes put the price up or down depending on how the show is selling. Usually, the price will increase as we get closer to the event, so it is advantageous to book in advance, although sometimes we will put special offers on and reduce the price. Our website will always show the current ticket price.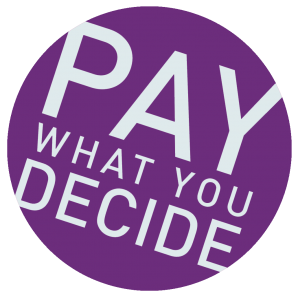 ARC's theatre and dance performances are priced on a Pay What You Decide basis, which means you don't have to pay until after you have seen a show!
We want to encourage more people to come and see shows at ARC, more often. Pay What You Decide not only allows you to pay what you can afford, rather than a fixed ticket price, but also removes the financial risk of buying a ticket for a show in advance without knowing whether you are going to enjoy it or not.
Tickets are available to book in advance as usual, but there is no obligation for you to pay until after you have seen the show. You can then decide on a price which you think is suitable based on your experience, which means if you haven't enjoyed it at all, you don't have to pay anything.
All money collected will help ARC pay the artists who have performed, and we therefore hope you will give generously.
Please ensure you have arrived and collected your tickets 15 minutes before the show starts in order to secure your seats. At the end of the show, you can decide what to pay, either by cash on the door or by card at the Box Office.
Girls, girls, girls is a new and emotive show from Uncaged Aerial Theatre. Each performer has delved into their personal experience and have asked themselves "What is it like to be a woman?"
What pressures do we feel from society, or is it pressure from ourselves?
What effect does this have on us, and can we break free from these boundaries?
3 women, 3 solos, 3 experiences.
Uncaged Aerial Theatre – Emma Bloomfield, Sarah Dobbs and Rosie Vleugels – is a female-led aerial theatre company. Founded in 2019, they specialise in combining high level aerial with impactful stories. We're delighted to have them in residency at ARC this week, developing their new show.  
While they're here, they would love to invite you to an informal Open Rehearsal on Thursday 31 March between 1pm and 4pm if you'd like to see what they're up to! You're welcome to come and go as you please during this time.
Emma Bloomfield
Emma started her professional aerial career in 2009, and toured with a traditional big top before returning to the North East. She continued to improve her skill set, completed Gravity Circus Centre professional course in 2017 and received a number of solo commissions including creating and performing at Sunderland Tall Ships 2018 (Emma was a finalist for Performing Artist of the Year at The Journal Culture Awards for this act).
Sarah Dobbs
Sarah is an aerialist, published author, and creative writing lecturer at Sunderland University. She completed My Aerial Home professional course in 2018 and has had a number of solo commissions. Her background in storytelling has been a big influence on Uncaged's work.
Rosie Vleugels
Rosie is an aerialist and personal trainer. She completed the Gravity Circus Centre professional course in 2019 then returned to the North East to continue her Personal Training career. Rosie's approach to health and wellbeing is a big influence in Uncaged's workshops and intensive that they run for the North East aerial community.
Follow Uncaged Aerial Theatre on Instagram