No tickets are currently available.
Dynamic Pricing
ARC's policy is to set ticket prices based on demand, like budget airlines, which means we set a price when the event goes on sale and then sometimes put the price up or down depending on how the show is selling. Usually, the price will increase as we get closer to the event, so it is advantageous to book in advance, although sometimes we will put special offers on and reduce the price. Our website will always show the current ticket price.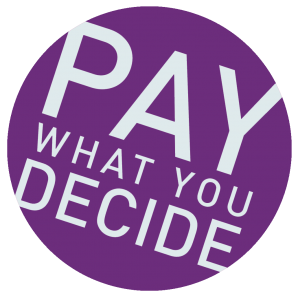 ARC's theatre and dance performances are priced on a Pay What You Decide basis, which means you don't have to pay until after you have seen a show!
We want to encourage more people to come and see shows at ARC, more often. Pay What You Decide not only allows you to pay what you can afford, rather than a fixed ticket price, but also removes the financial risk of buying a ticket for a show in advance without knowing whether you are going to enjoy it or not.
Tickets are available to book in advance as usual, but there is no obligation for you to pay until after you have seen the show. You can then decide on a price which you think is suitable based on your experience, which means if you haven't enjoyed it at all, you don't have to pay anything.
All money collected will help ARC pay the artists who have performed, and we therefore hope you will give generously.
Please ensure you have arrived and collected your tickets 15 minutes before the show starts in order to secure your seats. At the end of the show, you can decide what to pay, either by cash on the door or by card at the Box Office.
Seating: Allocated - See Seating Plan for More Details
Feeling misunderstood at home and at school, mischievous Max (Max Records) escapes to the land of the Wild Things, majestic — and sometimes fierce — creatures. They allow Max to become their leader, and he promises to create a kingdom where everyone will be happy. However, Max soon finds that being king is not easy and that, even being with the Wild Things, there is something missing.
BBFC Ratings Info (May Contain Spoilers)

Threat

Creatures repeatedly tell a boy that they are going to eat him. There is also a scene in which the boy discovers a pile of bones which he suspects belong to other characters who have been eaten by the creatures. However, the threats are not carried out, and the boy is never really very scared of the creatures.

Violence

In one scene, a character's arm is ripped off; however, he is annoyed about it rather than hurt, and there is no blood. In another scene, a boy loses his temper with his mother and bites her shoulder when she tries to hold him. However, there is no focus on his attack, and no injury detail.

There is infrequent very mild bad language (for example, 'damn').