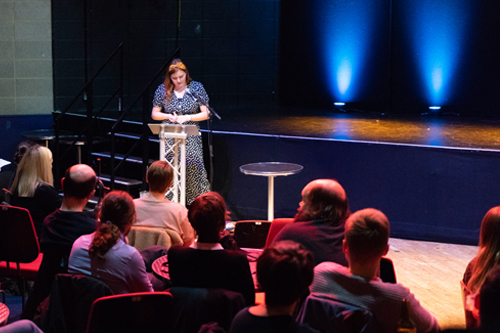 Back in June, I wrote about our first Pizza and Pitches event – a new way we are exploring of inviting local people to put forward ideas for creative activities they would like to run at ARC. We're gearing up for our second event, so if you've got an idea please let us know. You can find all the details here.
This week I invited our first ever successful pitcher, Holly Blythman, to write about her experience of pitching and share some advice for anyone thinking about applying to make their creative idea a reality.
Hi I'm Holly and I was the winner of the first Pizza and Pitches event held at ARC in June 2019. I first heard about the event from ARC's website and thought it was such a great idea, a 4 minute pitch to try and win a grant of £1000 to go towards your own idea that helps our community! Class! However, no idea suddenly pinged in my head so I forgot all about it. It wasn't until a few days later I was out enjoying my favourite hobby, skateboarding when I realised I actually had an idea!
Since starting skateboarding I had always expressed how I thought more children should get involved in the sport. Skateboarding has so many positive benefits such as the opportunity to socialise and make connections with new and diverse groups of people, the ability to set and achieve personal goals, improve fitness and you are free to be as creative as you want.
I had always mentioned how I wanted to give young people from/living in the Stockton-On-Tees area who wouldn't usually have the opportunity, the chance to try skateboarding and be involved in creative activities. Right there was my pitch idea!
Unfortunately, shortly after submitting my application for a pitch slot at Pizza & Pitches I fractured my left ankle, whilst skateboarding. The morning after my ankle surgery I was informed my idea had been chosen to be pitched, considering my circumstances I was so pleased and excited.
I wrote my pitch taking on board the advice I received from ARC and made sure it was under 4 minutes long. My advice would be if you can, keep it simple and straight to the point. 4 minutes to pitch an idea is not a long time so highlight the most important points, who in the community is your idea going to benefit? How are you going to spend the money? How are you going to make it happen? This makes it easier for the audience to understand exactly what you are going to do. My other advice is to invite as many friends and family to the event as you can! Spread the word, more support from the audience means more votes for your pitch!
I had never done anything like Pizza & Pitches before and to be completely honest I was VERY nervous, but I knew my idea would benefit some young people's lives in our community so I had to give it a good shot. Finally, my last bit of advice is have confidence in yourself and your idea. If I can win a pitch for a creative skateboarding programme with a cast on from a skateboarding injury, then you can definitely pitch too!
My idea will be starting up next year thanks to all the support from ARC, keep an eye out for more updates on the creative skateboarding programme and good luck with your pitch!
Pizza and Pitches was developed in collaboration with The Albany in Deptford, London. The next event takes place on Wednesday 9 October at 7pm, tickets are free, but pre-booking is essential. Tickets can be booked here.
Please submit your proposal by Monday 16 September. More information on how to do this can be found here.