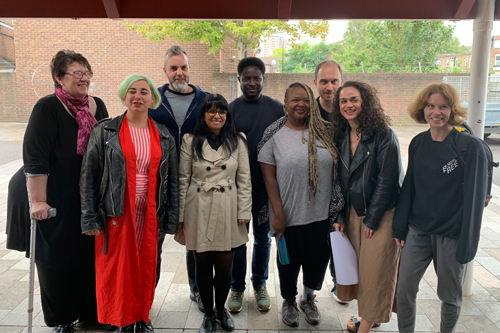 (L – R) Vici Wreford-Sinnott, Brigitte Aphrodite, Paul Slater (aka Fabric Lenny), Dawinder Bansal, Freddie Opoku-Addaie, Eska, Chris Thorpe, Debris Stevenson, Victoria Pratt
Last week was pretty unusual, as I worked almost exclusively on a single project. It was incredibly intense, but felt great to be taking a step away from 'the norm' – very much the theme of the week.
I've said before that if we want to change who gets to make and experience arts and culture, then we have to change how the cultural sector works – current practices exclude too many people.
That's why when Future Arts Centres was asked by Arts Council England to come up with ideas to mark the National Lottery's 25th anniversary, we didn't want to do it in the 'usual' way.
'Not the usual' – a fantastic phrase coined by theatre writer and director Vici Wreford-Sinnott – has very much become the mantra of the project. We invited nine amazing artists* to spend a week with us developing a creative brief, which will then be shared with 40 other artists from across England, each working with a local arts centre to create a new piece of work.
As FAC Co-chairs, and Executive Producers for this project, Gavin Barlow and I started the week with an idea of how we were going to lead it. I'm a planner at heart, so I admit that I had a fairly detailed timetable for the whole week. Needless to say the artists had deviated from this by the end of Monday!
The biggest challenge for me was on Thursday morning, when we presented back the ideas generated by the artists, but in the form of a written brief. It was completely rejected. We all agreed that whilst the sentiment of their ideas, and even some specific words and phrases had been used, the format – a formal document – didn't do justice to the energy, passion and desire to disrupt the normal ways of working that we had generated.
So we got rid of the document, and instead of Gavin and I leading the afternoon session – when we were being joined by some other venues – we handed it over to the artists. They shared their ideas in their way, much more creatively that I ever could, and the response was overwhelmingly positive. Everyone understood the desire for change, and welcomed the commitment to give artists responding to the brief real freedom.
This week we will be sharing that brief – in a format created and designed by artists –  with our 40 venue partners. Our job throughout this project is going to be to hold true to 'not the usual', to avoid slipping into our typical ways of working, and use this project as a springboard to create real change in how we work in future.
So, whilst it's 'back to the office' this week, I'm striving to ensure it's not 'back to the usual'.
*Brigitte Aphrodite, Dawinder Bansal, Debris Stevenson, Eska, Freddie Opoku-Addaie, Victoria Pratt, Paul Slater, Chris Thorpe, Vici Wreford-Sinnott