It's been a fantastic first few weeks at ARC! I've had the chance to meet as many people as possible over Zoom and email, and I've been getting to know some of the amazing people that make up this creative community.
The first exhibition we will be setting up as part of the Artist of Change project is themed around the idea of Home; answering the question of "What Is Home To You?" I've been thinking about this for a while and, to me, Home is a safe place; a warm place where you have memories with the people you love in your life. So, I decided that Home was all of our favourite places and I set about finding out about the places that everyone working at ARC love.
There were fantastic stories, sometimes one off moments where there was a specific and unique thing that happened, but usually it was a place that was repeatedly brought joy and comfort to those who visited. From beautiful wilderness walks, to football matches with the most important people in life, my inbox and Zoom calls soon became filled with so many beautiful memories that I had to start creating immediately!
At first it was drawings, pencil sketches and pen outlines but, after colouring the pictures, I began to create collages and put together patterns to develop this dreamy night sky over everything.

This week I also began interviewing people for the new podcast "A Change of Perspective."
Two of the wonderful people I talked to were Paige and Bettie, a pair of Tees Valley working class creative women who are not only producing their own powerful work but celebrating and sharing the work of many other female artists at various stages of their careers. I loved talking to them about their inspirations, loves, and fantastic work! I'm editing audio now for the first episodes.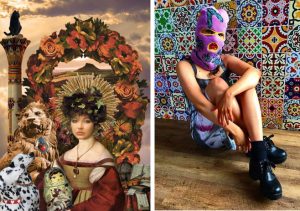 I've also started making some music to pair with a few of the beautiful stories I'm attempting to represent through illustration – stay tuned, maybe you'll hear a few notes in a later blog post!
For now, it's back to work, sketching, writing and editing. Write again soon!
– Lizzie Lovejoy