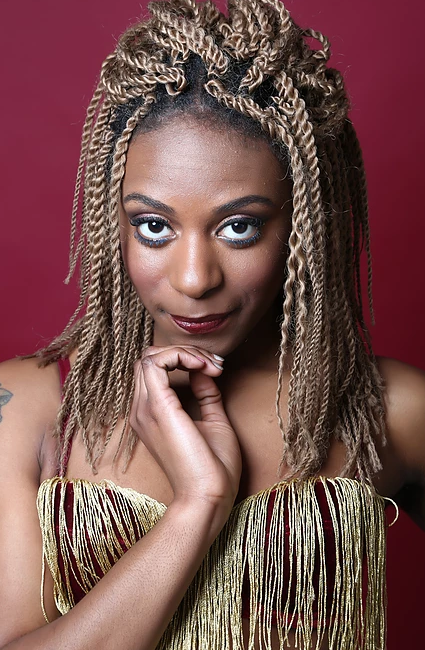 Symoné is a multidisciplinary circus and performance artist based in the U.K. Her work shifts between cabaret, club and theatre work, using and fusing her movement based skills, such as high heel roller skates with hula hoops, pole dance, and voguing.
Symoné has worked professionally as an artist for 5 years, with an untraditional background in her contemporary circus skills, Symoné is self-taught in her movement skills learning from underground party culture and using her roots as aesthetic references in her performances. 
Thematically in some of her work, Symoné explores human consciousness, queerness, underground parties, and celebration/ritual. She has travelled internationally working in 10 different countries with clients such as La Soirée, Jon Hopkins, Machel Montano, Omi, Paul and Paul Smith. She has had editorial features in Time Out, Instagram, QX Magazine, Diva and The Stage.
As a creative producer, she runs an outdoor theatre show called, Fierce Flow, a clubbing and circus extravaganza that is currently in development with support from Birmingham Hippodrome Theatre and Deda's Offsite programme.
Symoné has previously worked as resident artist with The Roundhouse in London, Fierce Festival FWD programme and is currently a resident of Black Hold Club. She is a Guinness world record holder and always has something new up her sleeve to create a sensation.
'I'm really looking forward to working alongside ARC Stockton as an Artist of Change to explore and challenge some of the practices within the arts with a real focus to help artists to grow.'