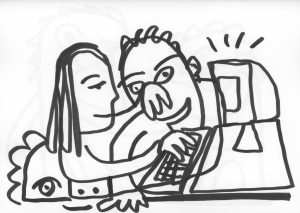 Artwork by Fabric Lenny
On this page, you can find useful resources for artists, theatre companies and venues.
Pay What You Decide toolkit
In January 2015 ARC introduced a Pay What You Decide pricing model on its entire theatre, dance and spoken word programme. Following its success, we published a free toolkit to help other venues and festivals considering introducing PWYD pricing.
Download the PWYD Toolkit
Download the Pink PWYD logo
Download the Purple PWYD logo
Routes In: A Guide to Getting New Work Programmed in the North of England
This comprehensive guide includes advice for artists setting out to get their work programmed as well as a directory of Northern venues who programme new work. It is published by Venues North.
Routes In is updated once a year.
Download the latest version of Routes In
Cultural Shift – Ideas for your Venue and Disabled People
Cultural Shift changed ARC and the way we work. It transformed our organisation, it touched everyone we worked with, disabled people and non-disabled people alike. The journey we went on wasn't always easy but the change we have achieved made every challenge worthwhile.
Our learning from Cultural Shift continues to develop and we have written a guide that details our journey and offers useful advice on how other venues and organisations can start their journey too.
Download the Cultural Shift guide
Access Guide for Artists & Companies
As part of ARC's Cultural Shift programme, we developed the attached access guide for artists and companies making new work. This document summarises some of the areas we ask artists working with ARC to consider. More information about making performances accessible is available from disability organisations.
Download the latest version of our Access Guide
Venues North Edinburgh Guides
Every year, Venues North produce a guide to the Edinburgh Fringe Festival. It includes work presented at the Fringe that has been supported by one or more Venues North members.
You can view and download copies of the guide from previous year's below.
Download the 2019 Venues North Edinburgh Guide
Download the 2018 Venues North Edinburgh Guide
Download the 2017 Venues North Edinburgh Guide
Download the 2016 Venues North Edinburgh Guide
Download the 2015 Venues North Edinburgh Guide