What a fantastic couple of weeks it has been here at ARC. The window exhibition is up and if you're ever walking through Stockton and happen to pass by the windows of ARC you can take a look at all of the images on display. Images developed by myself, inspired by the stories of our favourite places with our favourite people or even the places where we can walk alone. There is also the work of five other fantastic Tees Valley based creatives who portrayed their own interpretations of the exhibition's theme! And I'd just like to take a moment to draw your attention to them.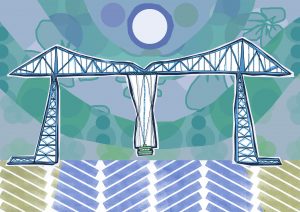 Jonn Kenvyn is an illustrator who works traditionally, using pens and watercolour to bring his ideas to life! You can find him on Instagram @kenvjn_illustration as well as on the online exhibition. He interpreted the concept of home as his place with his future family, envisioning the lives of himself and his fiancee.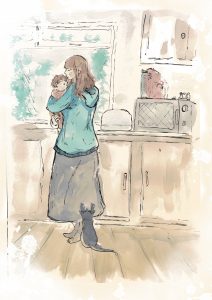 You can find the work of Chloe Hardy on Instagram @chloehnope where she shares her digitally produced illustrations. She looked around Middlesbrough for her concept of home, considering the place she comes from and celebrating it.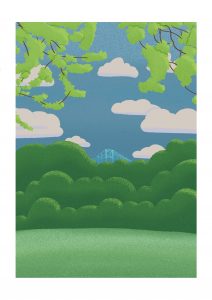 Basil shares his narrative and concept image making works on Instagram @basiliskblues with a range of animals, people and anthropomorphised characters. When considering the theme of Home he also looked to favourite places and the histories of the North exploring the Black Shuck and Whitby.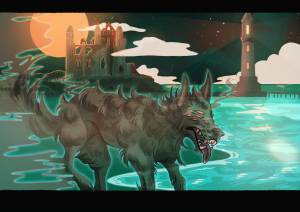 You can find illustrations from Mike Townsend on Instagram @crunchy_illustration where they share detailed concept art and other image making. They explored the places and moments that they have recently found themselves the happiest and at peace, looking out at the ocean around Hartlepool.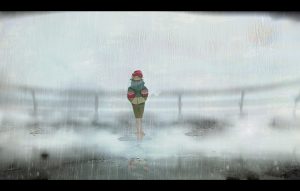 Jo Lovejoy is a printmaker and illustrator who can be found on Instagram @_jo_lovejoy_ sharing their carvings, prints and other creative endeavours. For Jo, home was two places, the garden and the books which line the walls of her house and she celebrated both in her lino prints.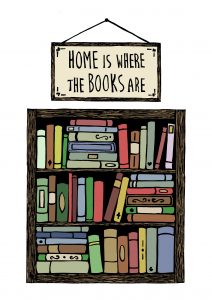 To see the full exhibition in all its glory, look online at our digital exhibition space, in the windows of ARC or (after we reopen) in our indoor gallery! For now, share some love to our fantastic featured artists who have produced beautiful work.