Dynamic Pricing
ARC's policy is to set ticket prices based on demand, like budget airlines, which means we set a price when the event goes on sale and then sometimes put the price up or down depending on how the show is selling. Usually, the price will increase as we get closer to the event, so it is advantageous to book in advance, although sometimes we will put special offers on and reduce the price. Our website will always show the current ticket price.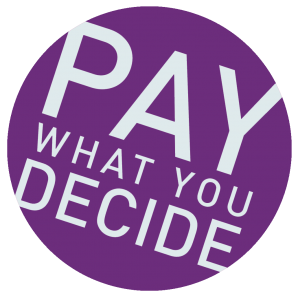 ARC's theatre and dance performances are priced on a Pay What You Decide basis, which means you don't have to pay until after you have seen a show!
We want to encourage more people to come and see shows at ARC, more often. Pay What You Decide not only allows you to pay what you can afford, rather than a fixed ticket price, but also removes the financial risk of buying a ticket for a show in advance without knowing whether you are going to enjoy it or not.
Tickets are available to book in advance as usual, but there is no obligation for you to pay until after you have seen the show. You can then decide on a price which you think is suitable based on your experience, which means if you haven't enjoyed it at all, you don't have to pay anything.
All money collected will help ARC pay the artists who have performed, and we therefore hope you will give generously.
Please ensure you have arrived and collected your tickets 15 minutes before the show starts in order to secure your seats. At the end of the show, you can decide what to pay, either by cash on the door or by card at the Box Office.
This Cafe Scientifique webinar will be held online via Zoom. Contact [email protected] to obtain Zoom link information.
Seating: Zoom Event
The gene-editing revolution; CRISPR technology, present and beyond with Dr Valentina Migliori of The Wellcome Sanger Institute, Cambridge.
This Cafe Scientifique webinar will be held online via Zoom. Contact [email protected] to obtain Zoom link information.
Since its discovery in a bacterial immune system, CRISPR-Cas9 has been adapted into a powerful genomic tool. Formed by two components, a DNA cutting protein (Cas9) and an RNA molecule known as the guide RNA, the CRISPR-Cas9 complex can identify and cut genomic DNA sequences at targeted locations. Best known for its ability to knock out or replace specific genes via these targeted cleavages in the genome, scientists are now extending the range of biological questions that can be tested with CRISPR/Cas9. Recently, it has been used to turn gene on and off and to visualise where specific DNA sequences are found in a cell. CRISPR technology has been awarded the chemistry Nobel Prize in 2020 for its revolutionised impact on gene editing research, but the potential we have seen so far can be only considered the tip of the iceberg, thinking at how it might be able to treat many genetic diseases in a not so distant future.
After graduating in Molecular and Industrial Biotechnology at the University of Bologna (Italy), Valentina did her PhD at the University of Singapore, where she discover a new epigenetics crosstalk under the supervision of Prof Ernesto Guccione. She then moved to Cambridge to pursue her postdoctoral work in Prof Tony Kouzarides' lab developing techniques and reagents to profile new RNA modifications and study their role in epitranscriptomics. She was a Fellow in King's College, Cambridge from 2013 to 2019 and she is now a Staff Scientist at the Sanger Institute, where she researches and develops new gene editing techniques.