No tickets are currently available.
Dynamic Pricing
ARC's policy is to set ticket prices based on demand, like budget airlines, which means we set a price when the event goes on sale and then sometimes put the price up or down depending on how the show is selling. Usually, the price will increase as we get closer to the event, so it is advantageous to book in advance, although sometimes we will put special offers on and reduce the price. Our website will always show the current ticket price.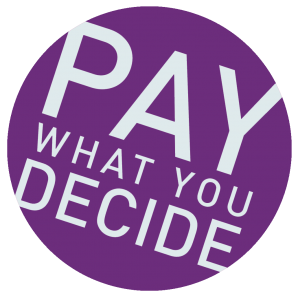 ARC's theatre and dance performances are priced on a Pay What You Decide basis, which means you don't have to pay until after you have seen a show!
We want to encourage more people to come and see shows at ARC, more often. Pay What You Decide not only allows you to pay what you can afford, rather than a fixed ticket price, but also removes the financial risk of buying a ticket for a show in advance without knowing whether you are going to enjoy it or not.
Tickets are available to book in advance as usual, but there is no obligation for you to pay until after you have seen the show. You can then decide on a price which you think is suitable based on your experience, which means if you haven't enjoyed it at all, you don't have to pay anything.
All money collected will help ARC pay the artists who have performed, and we therefore hope you will give generously.
Please ensure you have arrived and collected your tickets 15 minutes before the show starts in order to secure your seats. At the end of the show, you can decide what to pay, either by cash on the door or by card at the Box Office.
The documentary follows three Sikh women living in Widows Colony wherein they lost their homes and husbands in the violent killings of 1984 when over 2733 Sikhs were killed in Delhi and over 9000 in India after the death of Prime Minister Indira Gandhi. It is the biggest state sponsored massacre in India which has been systematically removed from the public memory calling it anti-Sikh riots.
In Punjabi, with English subtitles
Meet the director of this multi award winning documentary Teenaa Kaur
Teenaa Kaur Pasricha is a National award-winning filmmaker, Screenwriter, and TEDx Speaker.
She is known for her most popular film "1984, When the Sun didn't Rise" that won the National Film Award in Best investigative Film category.
She won a fellowship in Screenplay writing from Time Warner Foundation, Asia Society, New York for her debut feature film screenplay "Red Autumn".
She was selected as an International Leader on films for social change fellowship granted by the US Dept. of Cultural Affairs in Jan. 2020 wherein she networked with the independent film community in the US and Sundance Film festival.
She has fifteen years of experience in documentary films and recently short films. She has been making documentary films on Human Rights and Environment conservation.
Her films have been broadcast on National Geographic, Fox History, DD and endorsed by Busan International film festival "AND FUND", DOCWOK by DOC Leipzig Germany, PSBT India. Her most popular film is "1984, When the Sun didn't Rise" which has been screened in Universities in the UK, Canada, and the US and that won the National film award for the Best investigative film in 2018 from the President of India.