No tickets are currently available.
Dynamic Pricing
ARC's policy is to set ticket prices based on demand, like budget airlines, which means we set a price when the event goes on sale and then sometimes put the price up or down depending on how the show is selling. Usually, the price will increase as we get closer to the event, so it is advantageous to book in advance, although sometimes we will put special offers on and reduce the price. Our website will always show the current ticket price.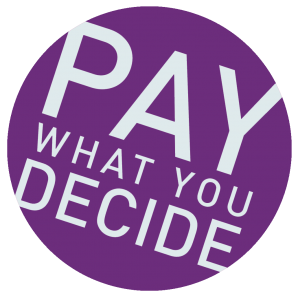 ARC's theatre and dance performances are priced on a Pay What You Decide basis, which means you don't have to pay until after you have seen a show!
We want to encourage more people to come and see shows at ARC, more often. Pay What You Decide not only allows you to pay what you can afford, rather than a fixed ticket price, but also removes the financial risk of buying a ticket for a show in advance without knowing whether you are going to enjoy it or not.
Tickets are available to book in advance as usual, but there is no obligation for you to pay until after you have seen the show. You can then decide on a price which you think is suitable based on your experience, which means if you haven't enjoyed it at all, you don't have to pay anything.
All money collected will help ARC pay the artists who have performed, and we therefore hope you will give generously.
Please ensure you have arrived and collected your tickets 15 minutes before the show starts in order to secure your seats. At the end of the show, you can decide what to pay, either by cash on the door or by card at the Box Office.
Hang Sơn Đoòng which translates as "mountain river cave", is located in the Phong Nha-Kẻ Bàng National Park in Quảng Bình Province in Vietnam. The national park is also a UNESCO world heritage site. First found in 1990 by a local farmer, it wasn't explored until 2009 when a British expedition team rigged ropes and descended down. Many people have described Sơn Đoòng as a lost world. It has its own lake, jungle and even a unique weather system.
In 2014 plans were announced to build a cable car into Sơn Đoòng. With many arguing that this would destroy the cave's delicate eco-system and the local community divided over the benefits this development would bring, the film follows those caught up in the unfolding events. The documentary also uses the narrative as a lens through which to investigate related themes such as the challenges of modern day exploration, environmental conservation & sustainability, and the perils of operating as an activist in a country such as Vietnam where freedom of speech is severely curtailed.
The screening on Thu 29 June at 2pm is relaxed for people living with dementia.
This film contains flickering or flashing lights that may affect those with photosensitive epilepsy.
Director
Alastair Evans
BBFC Ratings Info (May Contain Spoilers)

Violence

Real footage shows activists being dragged across the ground by police during unrest in Vietnam. Some have bloody injuries and are forcibly hooded by police. Other sequences depict napalm bombs being dropped onto rural landscapes from US aircraft during the Vietnam War.

Threat and horror

In a 1954 animated adaptation of George Orwell's ANIMAL FARM, it's implied that a pig is hunted and then torn apart by dogs. A scene from KONG: SKULL ISLAND features brief sight of the massive titular creature in its natural habitat.

Language

There is mild bad language ('piss', 'shit'), accompanied by other milder terms ('hell' and 'God').

Drugs

There is brief archive footage of people smoking joints while visiting Kathmandu.

Injury detail

There are photographs and video footage highlighting broken limbs in splints and severe bruising, results of police brutality against those considered by government as 'dissidents'.

Theme

There are upsetting images of Vietnamese people suffering from severe malnutrition during, and in the aftermath of war.

Alcohol and tobacco

Adults smoke cigarettes.

Flashing/flickering lights

This work contains flashing images which may affect viewers who are susceptible to photosensitive epilepsy.

Seating Accessibility Information

Cinema

Seat size

Seats in the Cinema are 45cm (172/3") wide and 46cm (18") deep, are 40cm (152/3") from the floor, and have 12cm (42/3") between seats.

Armrests

Seats in the Cinema have armrests that do not fold away, and cannot be completely removed.

Legroom

Seats in the cinema have 30cm (112/3") of legroom in front of seats, with additional legroom on row A and seats B1-B4 and B11-B14.

Further information

If you have any questions about accessibility our Box Office team are always happy to help and can be contacted on 01642 525199 or by emailing [email protected] - you can also tell us about your access requirements when prompted to do so during the online booking process.