Dynamic Pricing
ARC's policy is to set ticket prices based on demand, like budget airlines, which means we set a price when the event goes on sale and then sometimes put the price up or down depending on how the show is selling. Usually, the price will increase as we get closer to the event, so it is advantageous to book in advance, although sometimes we will put special offers on and reduce the price. Our website will always show the current ticket price.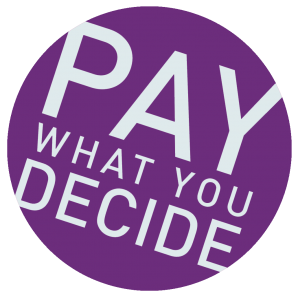 ARC's theatre and dance performances are priced on a Pay What You Decide basis, which means you don't have to pay until after you have seen a show!
We want to encourage more people to come and see shows at ARC, more often. Pay What You Decide not only allows you to pay what you can afford, rather than a fixed ticket price, but also removes the financial risk of buying a ticket for a show in advance without knowing whether you are going to enjoy it or not.
Tickets are available to book in advance as usual, but there is no obligation for you to pay until after you have seen the show. You can then decide on a price which you think is suitable based on your experience, which means if you haven't enjoyed it at all, you don't have to pay anything.
All money collected will help ARC pay the artists who have performed, and we therefore hope you will give generously.
Please ensure you have arrived and collected your tickets 15 minutes before the show starts in order to secure your seats. At the end of the show, you can decide what to pay, either by cash on the door or by card at the Box Office.
A Stitch in Time commemorates an unprecedented time in global history, through the artistic vision of the children of Crooksbarn Primary School.
Inspired by the works of artists Jose Romussi and Maurizio Anzeri, the children have collated a selection of black and white photographs of memorable times during the past year and embroidered them with rainbow coloured silks.
We chose to capture the images in black and white to show that even the most challenging of times are not always 'black and white'. For example, even during the most difficult of times, you can experience great joy and even though we were being asked to stay at home and isolate, we were still part of a school community, trying to support each other. We used rainbow coloured silk to embroider our images because a rainbow became a national symbol of unity and hope during the pandemic.
Much has been said about the experiences of young people throughout the pandemic, and at Crooksbarn Primary School we wanted to give our children the opportunity to express their personal experiences and feelings about the past year. This is the work that they have produced. We hope that you enjoy it.
You can see this exhibition in Wellington Square in the window of the 'Stylish' unit (opposite River island).