Dynamic Pricing
ARC's policy is to set ticket prices based on demand, like budget airlines, which means we set a price when the event goes on sale and then sometimes put the price up or down depending on how the show is selling. Usually, the price will increase as we get closer to the event, so it is advantageous to book in advance, although sometimes we will put special offers on and reduce the price. Our website will always show the current ticket price.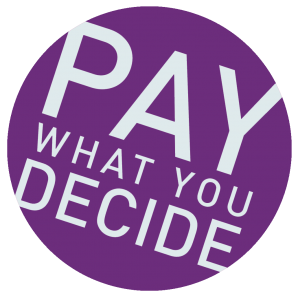 ARC's theatre and dance performances are priced on a Pay What You Decide basis, which means you don't have to pay until after you have seen a show!
We want to encourage more people to come and see shows at ARC, more often. Pay What You Decide not only allows you to pay what you can afford, rather than a fixed ticket price, but also removes the financial risk of buying a ticket for a show in advance without knowing whether you are going to enjoy it or not.
Tickets are available to book in advance as usual, but there is no obligation for you to pay until after you have seen the show. You can then decide on a price which you think is suitable based on your experience, which means if you haven't enjoyed it at all, you don't have to pay anything.
All money collected will help ARC pay the artists who have performed, and we therefore hope you will give generously.
Please ensure you have arrived and collected your tickets 15 minutes before the show starts in order to secure your seats. At the end of the show, you can decide what to pay, either by cash on the door or by card at the Box Office.
There is more than one North.
There is Magnetic North, and True North. There is the North in Northern, and the North that is further away, past other Norths. North is an orientation, a direction and a location. Your North might be an idea, or a place, a story, a picture, an accent, a memory or a song. Every human is their own compass, with their own North. A Different North is a project about collecting and sharing Norths, it charts new Norths and forgotten Norths. Norths that are changing and ones that will soon be lost. Welcome to A Different North.
————————————
We are Adam York Gregory and Gillian Jane Lees, two artists.
Adam is from the North of England and Gillian is from the
different North of Falkirk in Scotland.
We are making A Different North for several reasons, but perhaps the most important is that we are trying to understand something about ourselves and about the world around us.
We both feel 'Northern' and also think that it shapes us and how we see things, yet it is difficult for us to articulate this in words.
We want to talk to you about your North too, whatever that might be, and however you might see it.
Get in touch with us at www.adifferentnorth.com or you can email us at [email protected]
————————————
Adam York Gregory & Gillian Jane Lees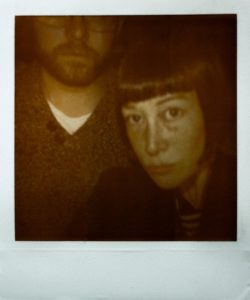 Gillian is a Glasgow based performance practitioner. She makes rigorous attempts to build and control her environment over hours, and sometimes days, by undertaking physically demanding and mentally exhausting durational performances. Gillian's interest lies in the fleeting moment where her will to succeed meets her diminishing physical ability to complete each task.
Adam is a scientist, games designer, typesetter, comic artist, film-maker and Visual Artist. His practice reflects each of these disciplines, often combining them to create novel areas of exploration, using his background in creating scientific investigations as a starting point for artistic explorations and methodologies.
Together, their practice seeks to explore the notion of 'the imagined ideal' through subjective performance, objective experimentation, documentation and observation.