No tickets are currently available.
Dynamic Pricing
ARC's policy is to set ticket prices based on demand, like budget airlines, which means we set a price when the event goes on sale and then sometimes put the price up or down depending on how the show is selling. Usually, the price will increase as we get closer to the event, so it is advantageous to book in advance, although sometimes we will put special offers on and reduce the price. Our website will always show the current ticket price.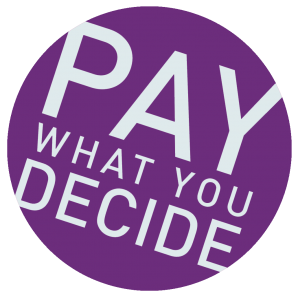 ARC's theatre and dance performances are priced on a Pay What You Decide basis, which means you don't have to pay until after you have seen a show!
We want to encourage more people to come and see shows at ARC, more often. Pay What You Decide not only allows you to pay what you can afford, rather than a fixed ticket price, but also removes the financial risk of buying a ticket for a show in advance without knowing whether you are going to enjoy it or not.
Tickets are available to book in advance as usual, but there is no obligation for you to pay until after you have seen the show. You can then decide on a price which you think is suitable based on your experience, which means if you haven't enjoyed it at all, you don't have to pay anything.
All money collected will help ARC pay the artists who have performed, and we therefore hope you will give generously.
Please ensure you have arrived and collected your tickets 15 minutes before the show starts in order to secure your seats. At the end of the show, you can decide what to pay, either by cash on the door or by card at the Box Office.
Seating: Allocated - See Seating Plan for More Details
When the air-conditioners in the city of Luanda, Angola mysteriously begin to fall, security guard Matacedo and Maid Zezinha embark on a mission to retrieve the boss's air-conditioner by the end of the day.
This is a film all about buildings and the too often unseen people that work and build their lives in them, and takes place in one of Mutamba's avenues at the heart of Luanda.
Filmed mostly using the natural light of Luanda during its coldest and grayest season, Cacimbo, the film privileges the characters and the context over the traditional narrative. The long sequence shots make us delve into the routine and inner world of Matacedo, without relinquishing our reality's preciousness of detail.
Every corner of the building wants to be contemplated and heard.The sonic chaos that characterize the city and Matacedo's semi-deafness act as the story's thread. The film unveils a city with its back turned to its inhabitants, the very same ones who keep it alive through their daily, invisible work, the stubborn concoction of a day-to-day life that defies confinement, abandonment and oblivion.
This film is one of many reflections on the city of Luanda, object of unplanned urban sprawl, and the result of a civil war that lasted nearly three decades that led a forced exodus into the capital.
Air Conditioner comes from the urge of making more fiction cinema in Angola. It's a film which has been written, produced, filmed, and edited entirely in Angola. It reasserts Geração 80's commitment to author-independent cinema and serves as a reminder that cinema in Angola is alive – it has to be seen, it has to be debated, it has to be supported.
In Portuguese with English subtitles.
Seating Accessibility Information

Cinema

Seat size

Seats in the Cinema are 45cm (172/3") wide and 46cm (18") deep, are 40cm (152/3") from the floor, and have 12cm (42/3") between seats.

Armrests

Seats in the Cinema have armrests that do not fold away, and cannot be completely removed.

Legroom

Seats in the cinema have 30cm (112/3") of legroom in front of seats, with additional legroom on row A and seats B1-B4 and B11-B14.

Further information

If you have any questions about accessibility our Box Office team are always happy to help and can be contacted on 01642 525199 or by emailing [email protected] - you can also tell us about your access requirements when prompted to do so during the online booking process.

Information about screenings with subtitles

Subtitled screenings offer captions which transcribe dialogue only. Subtitled screenings attempt to give D/deaf and hard-of-hearing viewers an understanding of the spoken dialogue within the film, but do not include description about other aspects of the soundtrack, including music and sound effects.