No tickets are currently available.
Dynamic Pricing
ARC's policy is to set ticket prices based on demand, like budget airlines, which means we set a price when the event goes on sale and then sometimes put the price up or down depending on how the show is selling. Usually, the price will increase as we get closer to the event, so it is advantageous to book in advance, although sometimes we will put special offers on and reduce the price. Our website will always show the current ticket price.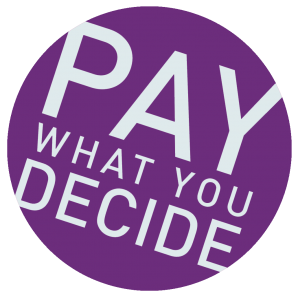 ARC's theatre and dance performances are priced on a Pay What You Decide basis, which means you don't have to pay until after you have seen a show!
We want to encourage more people to come and see shows at ARC, more often. Pay What You Decide not only allows you to pay what you can afford, rather than a fixed ticket price, but also removes the financial risk of buying a ticket for a show in advance without knowing whether you are going to enjoy it or not.
Tickets are available to book in advance as usual, but there is no obligation for you to pay until after you have seen the show. You can then decide on a price which you think is suitable based on your experience, which means if you haven't enjoyed it at all, you don't have to pay anything.
All money collected will help ARC pay the artists who have performed, and we therefore hope you will give generously.
Please ensure you have arrived and collected your tickets 15 minutes before the show starts in order to secure your seats. At the end of the show, you can decide what to pay, either by cash on the door or by card at the Box Office.
General Prices: £12 including entry to beer festival + £0.10 booking fee per ticket
Seating: Standing
Rounding off Ale & Arty's 2018 line-up in style, featuring banjo, accordion, double bass, acoustic guitars and percussion, Big Red & the Grinners move seamlessly from the likes of Technotronic's 'Pump Up the Jam' to Tony Rice's bluegrass classic 'Freeborn Man', or from Jay Z's '99 Problems' to Kelly Joe Phelps' masterpiece 'Window Grin'. Trying to describe the genius of this band is difficult – you just need to see them!
"Clever repertoire, pitch perfect harmonies and top-notch musicianship make them the band I recommend to every festival I work with" – Stephen Steinhaus, Festival Booker, Upton Blues Festival (BBA Blues Festival of the Year 2015 & 2016)
"I've been in the music business a long time and it takes a bit to impress me, but stood at the back I was blown away with the quality of the musicianship, humour and sound of Big Red and the Grinners" – Steve Williams, Director, Willowman Festival
"100% Total entertainment" – Veece, Festival Director, Stormin' the Castle biker's rally
"These guys stole the show, unforgettable" – Andy Buyers, South Tyneside Council, Mouth of the Tyne Festival
"Pure genius!" –Jumpin' Hot Club, Americana Festival, Sage Gateshead
 
Looking for a great bite to eat before the big gig?
Look no further than our cafe bar No 60 for a fantastic place to eat when it comes to pre-gig dining. No 60 offers a modern and vibrant space with a lively atmosphere. Not to mention you won't find a table closer to your seats anywhere in town.
Pick a meal from our monthly bistro menu, where our chefs make use of the finest seasonal ingredients. Or choose your favourite dish from our regular menu.
You can reserve a table by contacting the No 60 team via [email protected] now.
No 60 Ale Lovers Menu
The team at No 60 have put together a special menu which will be available in addition to all of our standard menus during the Ale & Arty festival. These dishes are perfect for those real ale fanatics who are looking for a comforting bit of grub to accompany their favourite tipples. Choose from:
Steak pie
with chips and mushy peas £6
Classic burger
8oz freshly made British Red Tractor beef pattie ,hand cut chips £7
Cajun chicken burger
marinated chicken breast grilled and served with freshly made hand cut chips £7
Thai red curry
classic spicy harissa curry finished with coconut served with rice £6
Butternut squash, spinach & lentil curry
served with steamed rice £7