No tickets are currently available.
Dynamic Pricing
ARC's policy is to set ticket prices based on demand, like budget airlines, which means we set a price when the event goes on sale and then sometimes put the price up or down depending on how the show is selling. Usually, the price will increase as we get closer to the event, so it is advantageous to book in advance, although sometimes we will put special offers on and reduce the price. Our website will always show the current ticket price.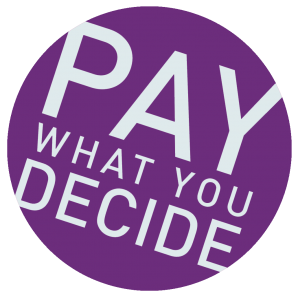 ARC's theatre and dance performances are priced on a Pay What You Decide basis, which means you don't have to pay until after you have seen a show!
We want to encourage more people to come and see shows at ARC, more often. Pay What You Decide not only allows you to pay what you can afford, rather than a fixed ticket price, but also removes the financial risk of buying a ticket for a show in advance without knowing whether you are going to enjoy it or not.
Tickets are available to book in advance as usual, but there is no obligation for you to pay until after you have seen the show. You can then decide on a price which you think is suitable based on your experience, which means if you haven't enjoyed it at all, you don't have to pay anything.
All money collected will help ARC pay the artists who have performed, and we therefore hope you will give generously.
Please ensure you have arrived and collected your tickets 15 minutes before the show starts in order to secure your seats. At the end of the show, you can decide what to pay, either by cash on the door or by card at the Box Office.
General Prices: £12 + £0.10 booking fee
Seating: Mixed
50 years ago Johnny Cash recorded his seminal album 'Live in San Quentin Prison'. Critically acclaimed it, and Cash's other forays into Prisons split public opinion but the man in black was adamant that music and empathy could hold the key to inspiring and transforming the lives of listener. Tonight, as an homage to the anniversary of that San Quentin concert, wildcat Mike McGrother, AKA The Wild Rover presents a night of songs that he promises will reflect 'The Good, The Bad and the Ugly' of his beloved Teesside.
Much more than a regular Johnny Cash tribute, Mike, backed by his all new, all-star Skiffle-style band, his Infant Hercules Choir and very special guests, will perform a blistering rebel-resounding two hour set featuring, amongst others, the music of The Clash; The Boomtown Rats; The Pogues; The Men They Couldn't Hang; Springsteen, Dylan, McGrother himself,  (watch out – Roly's about) and of course Johnny Cash.
Grab your tickets early for an unforgettable evening of unapologetic musical anarchy with a cheeky smile on its face!
'He always identified with the underdog…He felt a great empathy with those people." Tommy Cash, Johnny's younger brother.
Ticket price includes entry to Ale & Arty Beer Festival
Check out our Ale & Arty menu served throughout the Ale & Arty.