Dynamic Pricing
ARC's policy is to set ticket prices based on demand, like budget airlines, which means we set a price when the event goes on sale and then sometimes put the price up or down depending on how the show is selling. Usually, the price will increase as we get closer to the event, so it is advantageous to book in advance, although sometimes we will put special offers on and reduce the price. Our website will always show the current ticket price.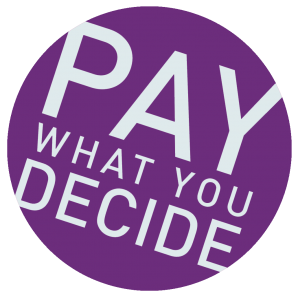 ARC's theatre and dance performances are priced on a Pay What You Decide basis, which means you don't have to pay until after you have seen a show!
We want to encourage more people to come and see shows at ARC, more often. Pay What You Decide not only allows you to pay what you can afford, rather than a fixed ticket price, but also removes the financial risk of buying a ticket for a show in advance without knowing whether you are going to enjoy it or not.
Tickets are available to book in advance as usual, but there is no obligation for you to pay until after you have seen the show. You can then decide on a price which you think is suitable based on your experience, which means if you haven't enjoyed it at all, you don't have to pay anything.
All money collected will help ARC pay the artists who have performed, and we therefore hope you will give generously.
Please ensure you have arrived and collected your tickets 15 minutes before the show starts in order to secure your seats. At the end of the show, you can decide what to pay, either by cash on the door or by card at the Box Office.
IN/Visible Disabled Women's National Arts Collective in association with ARC Stockton, Arts Depot London and Little Cog
All the Women We Could Have Been
3 – 30 August 2023
About the IN/Visible Collective
IN/Visible means in and visible to us – we're part of the arts and we're not going away! We've got lots of experience and lots to say about our experiences and the change we've been instrumental in creating. We're a group of disabled women who got together for a short project during lockdown and valued each other and the space so much that we decided to become a group rather than a project. We have eleven galleries of work on Little Cog's website and have been working together in real time online to create the pieces of work in this exhibition. We've explored narratives: around disabled women; older disabled women in the rights, justice and arts movements; intersectionality; what being activists has meant to our work; ideologies which impact us; and we celebrate who we are.
The artists in the collective are Michelle Baharier, Samantha Blackburn, Caroline Cardus, Honor Flaherty, Pauline Heath, Cheryl Martin, JulieMc McNamara, Lynne McFarlane, Dolly Sen, and Vici Wreford-Sinnott. You can find out more about the artists here.
About the Exhibition
A powerful and playful exploration of what life might have been like for disabled women had external limitations not been in place. But it's not a sad story, instead it's a unique opportunity to see especially created new works of art by some of the Disability Arts Movements leading disabled women artists and thinkers, all of whom are aged over 50, play with representation and expectation in works which are witty, poetic and provocative in this call-to-arms celebration. Each work presented is individual and unique with artists working across a wide range of mediums including photography, painting, wall sculpture, collage, textiles and embroidery. We've seen the work and we cannot wait to bring it all together in one place and share it with you.
We are also hosting a number of workshops for older disabled women to chat about what's important to us whilst being creative. You don't need to be an artist to attend and you don't need to know us to attend – we are reaching out and all older disabled women are welcome. More info below.
Exhibition Opening
Wednesday 2 August 2023 at 6.30-8.00pm both in person and online – you are welcome to attend but places must be booked in advance. Speeches and readings from members of the collective at 6.45pm. BSL interpreted. Online captions.
Light refreshments will be served.
Please book a place by emailing [email protected] clearly stating if you're attending IN PERSON or ONLINE please.
Access at the exhibition
The exhibition programme is available in standard print, large print and audio.
All exhibition items have an audio track available through QR codes exhibited alongside all text and images which can be accessed by smartphone. If you do not have a smartphone a device can be borrowed from Box Office to access the QR codes.
The exhibition is on the 2nd floor of ARC and is accessible by both stairs and a lift. The gallery space is a level space with no steps.
Please check ARC's opening hours for exhibition times but do note that the gallery space has groups working in it on Wednesdays from 10-3.30pm and Thursday 10am-12pm and so accessing on those days and times is less easy.
Access – ARC | Stockton Arts Centre (arconline.co.uk)
Valuing Each Other Workshops for Disabled Women by Disabled Women
It all started for us by creating a space for older disabled women to come together and chat whilst being creative. Artistic skill was not a pre-requisite as we were going to explore a range of artforms together. And so we're committed to continuing to create spaces like that. We'd like to invite disabled women over 50 to come along, have a chat and try something crafty. You don't have to know us to come along – all older disabled women are welcome. We use the term disabled to include people with mental health conditions, long term chronic conditions, physical and sensory conditions, you might be Deaf, visually impaired, neurodivergent or have a neurological condition.
We're a very diverse group of people but we have the common thread of connection through disability – quite often the myths and misunderstandings of disability – and so we are there for support for each other. For two hours a week we have an online oasis of belonging where we don't have to explain who we are and we can talk freely whilst being creative.
And we want that for you – a space you can come along to find out more about us, have a natter and a cuppa, make something crafty – you don't have to be artistic, honest. Our theme for the workshop is valuing each other and stretching out the hand of kindness – we'll all make something really simple that we can pass on to others so that they know there is kindness in the world. You don't need to bring anything – just yourselves.
Online Cocktails and Mocktails Afternoon – please book through Eventbrite here
Friday 4 August 2-3.30pm. Online Cocktails and Mocktails Afternoon for disabled women artists
ARC Workshop Dates
Craft Workshop and Afternoon Tea for local learning disabled people
1.00-3.00 PM in The Gallery