No tickets are currently available.
Pay What You Decide Info
Dynamic Pricing
ARC's policy is to set ticket prices based on demand, like budget airlines, which means we set a price when the event goes on sale and then sometimes put the price up or down depending on how the show is selling. Usually, the price will increase as we get closer to the event, so it is advantageous to book in advance, although sometimes we will put special offers on and reduce the price. Our website will always show the current ticket price.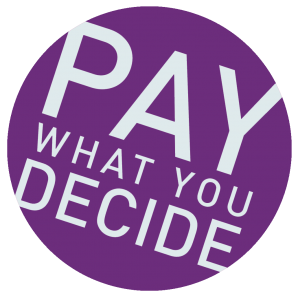 ARC's theatre and dance performances are priced on a Pay What You Decide basis, which means you don't have to pay until after you have seen a show!
We want to encourage more people to come and see shows at ARC, more often. Pay What You Decide not only allows you to pay what you can afford, rather than a fixed ticket price, but also removes the financial risk of buying a ticket for a show in advance without knowing whether you are going to enjoy it or not.
Tickets are available to book in advance as usual, but there is no obligation for you to pay until after you have seen the show. You can then decide on a price which you think is suitable based on your experience, which means if you haven't enjoyed it at all, you don't have to pay anything.
All money collected will help ARC pay the artists who have performed, and we therefore hope you will give generously.
Please ensure you have arrived and collected your tickets 15 minutes before the show starts in order to secure your seats. At the end of the show, you can decide what to pay, either by cash on the door or by card at the Box Office.
What would happen if Vic and Bob made a low budget horror film? 
There's something hairy coming to Stockton…
Are you missing some spookiness in your life? Can Halloween not come soon enough? Well don't fret ! From the creative teams who brought you shows like *gender not included, The Kids are Alright and Where Do All The Dead Pigeons Go? Comes a brand-new online work in progress which is bound to have you laughing to death…
Brought together through their shared love of 80s horror movies, Melody Sproates, Lee Mattinson and Scott Turnbull have travelled across the Yorkshire Moors to create a theatrical response to one of the best cult horror films of all time.
This creepy and hilarious love letter to their childhood favourite film explores the links between gender transitions and werewolf transformations, it challenges the negative depictions of queerness in the films that we love, and it questions what is the beast that we all hide inside of us?
An American Werewolf in Teesside is what happens when scenes are shredded and stuck back together with lip sync remixes, poetry, live animations, handmade costumes and much more… all blended together with the creative team's macabre and unique sense of humour. This online event invites you to see the film through a surreal, queer and abstract lens which will leave you howling for more!
A new digital theatre commission in partnership with ARC Stockton, written and devised by Melody Sproates, Lee Mattinson and Scott Turnbull.
Length: Just under an hour (approx – work in progress)
Content warning: Age suggestion 18+. The content and themes of the production may be uncomfortable or upsetting for some audience members. The show is inspired by a horror film, An American Werewolf in London, so some of the content used will reflect similar scary, disturbing or horror themes, as well as strong language and references to gender dysphoria and homophobia. The work is approached through a light hearted and humorous lens, giving distance to this content. Please see the attached document for more details.
Artists:
Melody Sproates is a trans / non-binary theatre maker, writer and zine-maker. They make challenging and sometimes daft work to help represent the underrepresented and advocate positive well being for the LGBTQIA+ community. They have worked on theatre shows such as *gender not included, Raising Shame (BRASH) and ReTake ReMake (The Lawnmowers), and are currently working on their free creative arts project, Stay home stay queer.
Lee Mattinson is an award-winning gay writer. Theatre credits include: 'The Season Ticket' (Pilot Theatre/Northern Stage), 'I Heart Catherine Pistachio' (Encounter, Soho Theatre, The Yard), 'Crocodiles' (Royal Exchange, Winner of the inaugural Hodgkiss Award), 'Snap' (Young Vic), 'Gary Lineker is Gay' (Paines Plough), 'Chalet Lines' (Bush Theatre) and 'Me & Cilla' (Live Theatre).
Scott Turnbull is an Associate Artist at ARC Stockton. He graduated from LIPA in 2009 after winning The Connexions Young Adult Achiever Award. In 2011 he won The Journal's North East Actor of the year award for John Retallack's adaptation of 'Apples' and was voted 'one to watch' by The Observer. He has worked extensively at Northern Stage and is a member of the Greyscale Theatre Company. He enjoys saxophone and hang-gliding.
Access to the performance is via our dedicated online streaming service. Click here to log in with your usual ARC account details (if you've forgotten your log in details, the email address will be the one that normally receives emails from us, and your password can easily be reset from the log in page).