No tickets are currently available.
Dynamic Pricing
ARC's policy is to set ticket prices based on demand, like budget airlines, which means we set a price when the event goes on sale and then sometimes put the price up or down depending on how the show is selling. Usually, the price will increase as we get closer to the event, so it is advantageous to book in advance, although sometimes we will put special offers on and reduce the price. Our website will always show the current ticket price.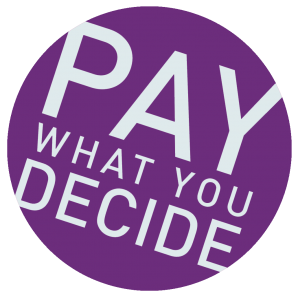 ARC's theatre and dance performances are priced on a Pay What You Decide basis, which means you don't have to pay until after you have seen a show!
We want to encourage more people to come and see shows at ARC, more often. Pay What You Decide not only allows you to pay what you can afford, rather than a fixed ticket price, but also removes the financial risk of buying a ticket for a show in advance without knowing whether you are going to enjoy it or not.
Tickets are available to book in advance as usual, but there is no obligation for you to pay until after you have seen the show. You can then decide on a price which you think is suitable based on your experience, which means if you haven't enjoyed it at all, you don't have to pay anything.
All money collected will help ARC pay the artists who have performed, and we therefore hope you will give generously.
Please ensure you have arrived and collected your tickets 15 minutes before the show starts in order to secure your seats. At the end of the show, you can decide what to pay, either by cash on the door or by card at the Box Office.
Seating: Allocated - See Seating Plan for More Details
Fame is something that comes with the job of being a successful actor or filmmaker, so who better to tell us about the highs and lows of celebrity than the two most popular Big Brother winners of all time. Anthony Hutton and Pete Bennett will share a stage at ARC as part of the Tees Valley International Film Festival to tell all about their experiences with reality TV, how it thrust fame upon them and what happened after their star began to fade.
These Godfathers of Reality TV won Channel 4's Big Brother in consecutive years. Anthony, now a successful barber and bar owner based in Darlington, was the last person in the house in 2005; and Pete, the victor of Big Brother 7, lives in Brighton where he pursues a career in acting, fronts punk rock band LoVeDoGz and continues to champion Tourette's awareness.
The evening will include an audience Q&A, so you can speak directly to these legends of the golden age of reality TV.
Seating Accessibility Info

Studio

Seat size

In our Studio the seats in row A are 37cm (141/2″) wide and 44cm (171/3") deep, are 44cm (171/3") from the floor, and have a 12cm (43/4") gap between seats. Seats in row A are also removable as single seats.

Seats in rows B-H are 43cm (17") wide and 46cm (18") deep, are 44cm (171/3 ") from the floor, and have 8cm (3") between seats.

Seats in rows J-K are 43 cm (17") wide and 44cm (171/3") deep, are 44cm (171/3") from the floor, and have 8cm (3") between seats.

Armrests

Seats in the Studio do not have armrests.

Legroom

Seats in row A have 50cm (192/3") of legroom in front of seats.

Seats in rows B-H have 30cm (112/3") of legroom in front of seats.

Seats in rows J-K have 24cm (91/2") of legroom in front of seats.

Further information

If you have any questions about accessibility our Box Office team are always happy to help and can be contacted on 01642 525199 or by emailing [email protected] - you can also tell us about your access requirements when prompted to do so during the online booking process.