No tickets are currently available.
Dynamic Pricing
ARC's policy is to set ticket prices based on demand, like budget airlines, which means we set a price when the event goes on sale and then sometimes put the price up or down depending on how the show is selling. Usually, the price will increase as we get closer to the event, so it is advantageous to book in advance, although sometimes we will put special offers on and reduce the price. Our website will always show the current ticket price.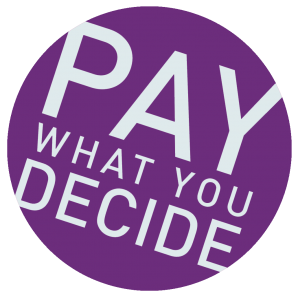 ARC's theatre and dance performances are priced on a Pay What You Decide basis, which means you don't have to pay until after you have seen a show!
We want to encourage more people to come and see shows at ARC, more often. Pay What You Decide not only allows you to pay what you can afford, rather than a fixed ticket price, but also removes the financial risk of buying a ticket for a show in advance without knowing whether you are going to enjoy it or not.
Tickets are available to book in advance as usual, but there is no obligation for you to pay until after you have seen the show. You can then decide on a price which you think is suitable based on your experience, which means if you haven't enjoyed it at all, you don't have to pay anything.
All money collected will help ARC pay the artists who have performed, and we therefore hope you will give generously.
Please ensure you have arrived and collected your tickets 15 minutes before the show starts in order to secure your seats. At the end of the show, you can decide what to pay, either by cash on the door or by card at the Box Office.
Two great shows for the price of one! Book for a double bill, with a performance by Ian McMillan followed by Lucy Holden interviewed by Tom Taylor of Teesside's Comedy Club.
At either side of the generational divide, two authors try to understand the experiences that have made them what they are today.
7pm – 8.15pm
Journalist, playwright, "the Shirley Bassey of performance poetry" and BBC Radio 3 broadcaster Ian McMillan recalls his days by the sea, from Cleethorpes & Scarborough to Northumberland & Blackpool. He walks barefoot to see the sun rise; he is attacked by seagulls, midges, and wasps; he eats a lot of fish & chips; he nearly avoids a frisbee; he searches for jazz. In writing peppered with poetry, Ian tries to work out how those journeys shaped the grand old dad that he's become today.
8.45pm – 9.30pm
Meanwhile, after a wild decade of hedonistic city life, freelance journalist, amateur stand-up comedian and 'voice of a generation' Lucy Holden is thrown back down the ladder to her parents' house in a pandemic which paused the parties and forced her to ask herself how she'd become who she'd become? Grown-up, broken-down, completely lost, then locked-in, her raw and hilarious memoir addresses what it means to be young in today's society – and where we can go from here.
Copies of My Sand Life, My Pebble Life and Lucid can be purchased from our official festival bookseller DRAKE the Bookshop.
About My Sand Life, My Pebble Life:

In this nostalgic collection of reminiscences (with the odd poem thrown in) journey with Ian as he walks barefoot to the sea to see the sun rise. He is attacked by seagulls, and midges, and wasps. He eats a lot of fish and chips and it's always the best yet. He nearly avoids a frisbee. He searches for jazz in Scarborough. He walks. He even tries to run. But mostly he savours the sea and our seaside moments and our seaside dreams.

If you want a shot of salty sea air, a tussle with a seagull and the congenial companionship of someone described as 'relentlessly jolly' (TheGuardian), this will be a joyous and moving read.

About Lucid:

In this raw, hilarious and often emotional memoir about a young woman asking herself how long she has until her act cracks completely, the mental health of a fast-paced world that never sits still is called into question. With charm and wit, Lucid addresses what it means to be young in today's society – and where we can go from here.