No tickets are currently available.
Dynamic Pricing
ARC's policy is to set ticket prices based on demand, like budget airlines, which means we set a price when the event goes on sale and then sometimes put the price up or down depending on how the show is selling. Usually, the price will increase as we get closer to the event, so it is advantageous to book in advance, although sometimes we will put special offers on and reduce the price. Our website will always show the current ticket price.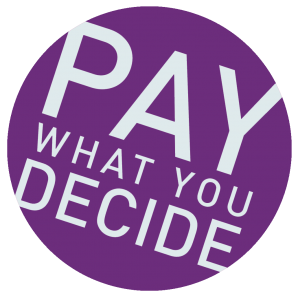 ARC's theatre and dance performances are priced on a Pay What You Decide basis, which means you don't have to pay until after you have seen a show!
We want to encourage more people to come and see shows at ARC, more often. Pay What You Decide not only allows you to pay what you can afford, rather than a fixed ticket price, but also removes the financial risk of buying a ticket for a show in advance without knowing whether you are going to enjoy it or not.
Tickets are available to book in advance as usual, but there is no obligation for you to pay until after you have seen the show. You can then decide on a price which you think is suitable based on your experience, which means if you haven't enjoyed it at all, you don't have to pay anything.
All money collected will help ARC pay the artists who have performed, and we therefore hope you will give generously.
Please ensure you have arrived and collected your tickets 15 minutes before the show starts in order to secure your seats. At the end of the show, you can decide what to pay, either by cash on the door or by card at the Box Office.
General Prices: £20 to include one book | £30 for 2 tickets to include one book (please use promo code 2FOR30)
Seating: Allocated - See Seating Plan for More Details
Please note: Standard single tickets are £20 each to include a copy of the book. If booking two tickets together and only one copy of the book is required, please use promo code 2FOR30 to book two seats for £30 and receive one book (limit of two tickets per customer for this offer)
In partnership with DRAKE the Bookshop, author, comedian and podcaster Robin Ince joins us for an entertaining and science-filled evening. He will be discussing his new, erudite and witty book, The Importance of Being Interested.
Robin Ince quickly abandoned science at school, bored by a fog of dull lessons and intimidated by the barrage of equations. But, twenty years later, he fell in love and he now presents one of the world's most popular science podcasts, The Infinite Monkey Cage with Professor Brian Cox. Every year he meets hundreds of the world's greatest thinkers. In his book, Robin reveals why scientific wonder isn't just for the professionals. He explores why many think of the discipline as distant and difficult. From the glorious appeal of the stars above to why scientific curiosity can encourage much needed intellectual humility, this optimistic and profound book will leave you filled with a thirst for intellectual adventure.
Robin will be doing a Q&A and signing copies of his new book afterwards.