No tickets are currently available.
Dynamic Pricing
ARC's policy is to set ticket prices based on demand, like budget airlines, which means we set a price when the event goes on sale and then sometimes put the price up or down depending on how the show is selling. Usually, the price will increase as we get closer to the event, so it is advantageous to book in advance, although sometimes we will put special offers on and reduce the price. Our website will always show the current ticket price.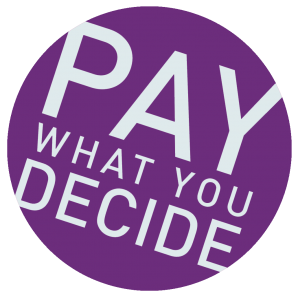 ARC's theatre and dance performances are priced on a Pay What You Decide basis, which means you don't have to pay until after you have seen a show!
We want to encourage more people to come and see shows at ARC, more often. Pay What You Decide not only allows you to pay what you can afford, rather than a fixed ticket price, but also removes the financial risk of buying a ticket for a show in advance without knowing whether you are going to enjoy it or not.
Tickets are available to book in advance as usual, but there is no obligation for you to pay until after you have seen the show. You can then decide on a price which you think is suitable based on your experience, which means if you haven't enjoyed it at all, you don't have to pay anything.
All money collected will help ARC pay the artists who have performed, and we therefore hope you will give generously.
Please ensure you have arrived and collected your tickets 15 minutes before the show starts in order to secure your seats. At the end of the show, you can decide what to pay, either by cash on the door or by card at the Box Office.
General Prices: £18 + £0.10 booking fee
Duration: 1hr 40m
Seating: Reserved seated
'Cracking adlibbing…a joke-rich rallying call for a better Britain' THE GUARDIAN
'Coruscating live performer specialising in lacerating topical gags' THE INDEPENDENT
"It was 24th June 2016 and I found myself contemplating a supermarket meal deal. I only wanted a sandwich and I only needed a sandwich but given that I could get a snack and a drink for only 5p more it seemed financially irresponsible not to. I had spent so long pondering the EU Referendum result from the day before that I was now in a massive rush.  The lad on the till scanned the first two items no problem but the third item he couldn't get to scan at all. I thought this is going to be a nightmare – there was a queue building up and he looked like he was going to call the superviser. Then to his credit, he tried to scan it one more time, it wouldn't scan – so he went 'bip' himself and chucked it through. And it was at that moment I thought 'oh we'll be alright as a country we will'.
And we will be alright. Trust me. I'm not a politician."
'A consistently strong exposer of bullshit and a plain-speaking truth-teller through his entire career' THE GUARDIAN
'Potent live performer…can nail a nonsense with beautiful economy of words' THE TIMES