Dynamic Pricing
ARC's policy is to set ticket prices based on demand, like budget airlines, which means we set a price when the event goes on sale and then sometimes put the price up or down depending on how the show is selling. Usually, the price will increase as we get closer to the event, so it is advantageous to book in advance, although sometimes we will put special offers on and reduce the price. Our website will always show the current ticket price.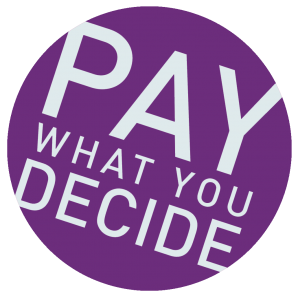 ARC's theatre and dance performances are priced on a Pay What You Decide basis, which means you don't have to pay until after you have seen a show!
We want to encourage more people to come and see shows at ARC, more often. Pay What You Decide not only allows you to pay what you can afford, rather than a fixed ticket price, but also removes the financial risk of buying a ticket for a show in advance without knowing whether you are going to enjoy it or not.
Tickets are available to book in advance as usual, but there is no obligation for you to pay until after you have seen the show. You can then decide on a price which you think is suitable based on your experience, which means if you haven't enjoyed it at all, you don't have to pay anything.
All money collected will help ARC pay the artists who have performed, and we therefore hope you will give generously.
Please ensure you have arrived and collected your tickets 15 minutes before the show starts in order to secure your seats. At the end of the show, you can decide what to pay, either by cash on the door or by card at the Box Office.
This class takes place in person and online.
Develop and hone your filmmaking skills with this informal group led session! Work on your own project or combine efforts with other members. Explore sound production, script writing, and film lighting and by bringing bags of imagination to share your skills, learn new techniques and create films for screening.
Through a combination of workshops, peer-led discussions, Q&A sessions, and practical demonstrations, coupled with hands-on experience during the sessions, you will learn the necessary tools to make films. Whether you want to make your holiday movies a little bit more interesting, or you think you are the right person for the next blockbuster, you will learn the basic tools of the trade.
This is an open group ranging from the under 20s to the over 50s who create a friendly and supportive environment. You do not need any previous experience to join the group.
There is some equipment for shared use but participants are recommended to bring their own for specific projects. Bring a notepad and pen to make notes if needed.