No tickets are currently available.
Dynamic Pricing
ARC's policy is to set ticket prices based on demand, like budget airlines, which means we set a price when the event goes on sale and then sometimes put the price up or down depending on how the show is selling. Usually, the price will increase as we get closer to the event, so it is advantageous to book in advance, although sometimes we will put special offers on and reduce the price. Our website will always show the current ticket price.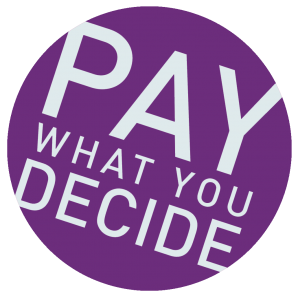 ARC's theatre and dance performances are priced on a Pay What You Decide basis, which means you don't have to pay until after you have seen a show!
We want to encourage more people to come and see shows at ARC, more often. Pay What You Decide not only allows you to pay what you can afford, rather than a fixed ticket price, but also removes the financial risk of buying a ticket for a show in advance without knowing whether you are going to enjoy it or not.
Tickets are available to book in advance as usual, but there is no obligation for you to pay until after you have seen the show. You can then decide on a price which you think is suitable based on your experience, which means if you haven't enjoyed it at all, you don't have to pay anything.
All money collected will help ARC pay the artists who have performed, and we therefore hope you will give generously.
Please ensure you have arrived and collected your tickets 15 minutes before the show starts in order to secure your seats. At the end of the show, you can decide what to pay, either by cash on the door or by card at the Box Office.
General Prices: Pay What You Decide
Duration: 6 hours
Seating: Unreserved seated
ARCADE Platform provides an opportunity for artists to test new work and ideas in front of an audience of peers and venue programmers. This event will consist of eight pieces of work in progress performance split across three sessions.
ARCADE Platform offers an exciting opportunity to not only see work at an early stage but to influence it, with the chance to feedback on the work and chat to the artists and companies after the performances. 
Work being presented at the ARCADE Platform includes:
Group A 12pm – 1pm
THE CULT OF K*NZO by Paula Varjack
THE CULT OF K*NZO is a solo performance combining storytelling, videography, animation and choreography, to playfully explore one woman's life long desire for luxury, the ways in which luxury brands create that desire, and the journey of one man's dream to become a fashion designer. Across all of these stories are outsiders, the tension between inclusion and exclusion, and the mysterious allure of high end. Why do we want the things that we want?
Composed by Rosa Postlethwaite
A funny, biting and honest show about a spokesman (sic) and their institution. An exploration of theatre rituals, fantasy and institutionalised violence. Tonight, the master of ceremonies stays centre stage with an in-house announcement, a thank you to the sponsors, a warm-up act… In this project of self-reflection and industry critique, Rosa deals with apologetic addresses, revved-up entrepreneurial spiel and whether or not you're asking for it. Through subversive humour they point towards our expectations of the evening and play with what happens when the composition cracks.
Move On by Nearly There Yet
You don't belong here. You have somehow blagged your way in to a party you don't have an invite to. They all know, they're just not saying it. You are the Elephant in the room.

The BNP in the 80's, broken eggs, water fights, class struggles, biting, Brexit and juggling in the rain all sit very un-neatly in this one man exploration of what it is to be judged and to be judgemental. A show with lots of talking which is probably not for the whole family.

Group B 1.30pm – 2.30pm
Putting on, Taking Off by Matt Miller
What roles do clothes make us play? How do they define and confine us? Writer, performer and cross-dresser Matt Miller attempts to escape the rules of what we can or cannot be but encounters new sets of rules in the search for self-definition.
A Long Way from Home by Paul Wilshaw
A Long Way From Home is about a learning disabled man in his early thirties on a physical and emotional journey of discovery to find out where he fits in the world. He wants to re-connect with his family who, he believes, rejected him at the age of seven because of his learning disability
Iconograhy by Zoe Murtagh
A celebratory look at queer history and a critique of sexism and misogyny in the gay community today, this piece will look intricately at who we idolise and why, how we co-opt our icons from other communities and asks how we can better embrace diversity within our definition of celebrity.
Group C 3.15pm – 4.15pm
Locks by Ashleigh Nugent
It's 1993. Aeon, a teenager from a middle class English suburb, has ended up in a Jamaican prison. He only wanted adventure, experience and a way to live up to the label of 'black lad'. Now he has been stabbed, humiliated and beaten unconscious. He has been arrested and watched his friends drown. And he is forced to accept the fact that here, in Jamaican prison, he is the 'white boy'. Locks is based on a true story. Ashleigh Nugent will perform readings from his memoir. His performances include music and sound. They are thought provoking, uplifting and light hearted.
How to be amazingly happy! (with a strong sense of purpose, identity and belonging) by Victoria Firth
Is your happiness not where you expected? Has your self gone AWOL with the life plan?
Victoria is on a quest. She wants happiness and she wants it now. No matter how tough, how busy, how ridiculous – she's going all out and getting this done. Join her as she asks – what do you do with the rest of your life when you don't have kids?  It's Tales of the unexpected meets Miranda in this big hearted, big thinking show of storytelling, physical comedy and maybe even some tap dancing!
Need somewhere to dine before the show?
We know that when you're trying to make it on time to see a show in the evening life doesn't just stop – you still need to eat! Thankfully our No 60 cafe bar has a great selection of meals, with something to suit every appetite. From sandwiches and paninis with a range of fresh fillings, to our hearty speciality burgers. Or if you're looking for something a little bit different there's always our bistro menu which offers a new selection of flavours and exciting seasonal dishes every month.
You can reserve a table by contacting the No 60 team via [email protected] now.