No tickets are currently available.
Dynamic Pricing
ARC's policy is to set ticket prices based on demand, like budget airlines, which means we set a price when the event goes on sale and then sometimes put the price up or down depending on how the show is selling. Usually, the price will increase as we get closer to the event, so it is advantageous to book in advance, although sometimes we will put special offers on and reduce the price. Our website will always show the current ticket price.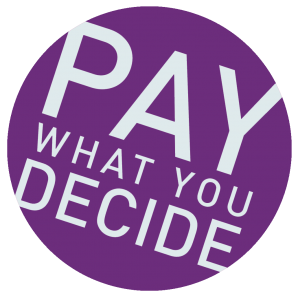 ARC's theatre and dance performances are priced on a Pay What You Decide basis, which means you don't have to pay until after you have seen a show!
We want to encourage more people to come and see shows at ARC, more often. Pay What You Decide not only allows you to pay what you can afford, rather than a fixed ticket price, but also removes the financial risk of buying a ticket for a show in advance without knowing whether you are going to enjoy it or not.
Tickets are available to book in advance as usual, but there is no obligation for you to pay until after you have seen the show. You can then decide on a price which you think is suitable based on your experience, which means if you haven't enjoyed it at all, you don't have to pay anything.
All money collected will help ARC pay the artists who have performed, and we therefore hope you will give generously.
Please ensure you have arrived and collected your tickets 15 minutes before the show starts in order to secure your seats. At the end of the show, you can decide what to pay, either by cash on the door or by card at the Box Office.
Duration: 1hr
Seating: Standing and Allocated Seating
ARCulele is a fun and exciting band session for ukulele fans, whether you have been plucking away for years or have only just started. You will get the chance to learn and play new material with the rest of the group and socialise with fellow musicians.
For total beginners and new members, there is a 30 minute basic lesson at the start of each session to help you learn new skills, this runs from 11am to 11.30am.
The session structure is as follows:
Tune up
Warm up
2 songs
Technique check
New song
Finish
If you don't have your own Ukulele to bring to the session, don't worry! We have a small number of instruments available for you to use.
Learning a musical instrument has many benefits for health and happiness such as,
• Increased coordination
• Increases brain function
• Encourages self-expression
• Natural stress relief
• Improves concentration
Even if you've never been able to keep a beat or you haven't picked up an instrument in years, it's never too late! Come and enjoy a new and exciting hobby with a group of friendly and likeminded individuals.
All of our online content from classes to events can be accessed from our dedicated online platform. This links directly with your ARC account and automatically provides access to content you have booked through ARC's website. This means you can log in with your usual ARC account details to easily access classes, performances, and other online activity.
Click here to go to login page. 
Click here to view our guide to accessing events online.
If you've forgotten your login details, the email address will be the one that normally receives emails from us, and your password can easily be reset from the login page. If you have any problems accessing your account, you can contact our Box Office on 01642 525199 or via [email protected] and we'll be happy to help get you set up.