No tickets are currently available.
Dynamic Pricing
ARC's policy is to set ticket prices based on demand, like budget airlines, which means we set a price when the event goes on sale and then sometimes put the price up or down depending on how the show is selling. Usually, the price will increase as we get closer to the event, so it is advantageous to book in advance, although sometimes we will put special offers on and reduce the price. Our website will always show the current ticket price.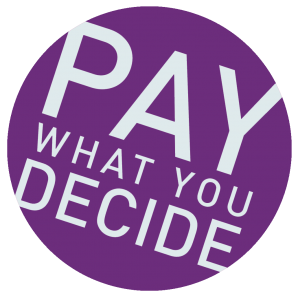 ARC's theatre and dance performances are priced on a Pay What You Decide basis, which means you don't have to pay until after you have seen a show!
We want to encourage more people to come and see shows at ARC, more often. Pay What You Decide not only allows you to pay what you can afford, rather than a fixed ticket price, but also removes the financial risk of buying a ticket for a show in advance without knowing whether you are going to enjoy it or not.
Tickets are available to book in advance as usual, but there is no obligation for you to pay until after you have seen the show. You can then decide on a price which you think is suitable based on your experience, which means if you haven't enjoyed it at all, you don't have to pay anything.
All money collected will help ARC pay the artists who have performed, and we therefore hope you will give generously.
Please ensure you have arrived and collected your tickets 15 minutes before the show starts in order to secure your seats. At the end of the show, you can decide what to pay, either by cash on the door or by card at the Box Office.
A thrilling evening with readings and conversation from three members of the Northern Crime Writers Syndicate – Fiona Erskine, creator of the Chemical Detective novels featuring Dr Jaq Silver; Golden-Age-influenced Chris McGeorge; and Robb Scragg, author of the Porter & Styles series, and winner of the 2021 Lindisfarne Prize for Crime Fiction.
Get free tickets for The Plot Is Murder on the Tees with every booking!
Buy your copies of The Chemical Detective, Guess Who, and All That Is Buried, from our official festival bookseller DRAKE the Bookshop.
About The Chemical Detective:

Dr Jaqueline Silver blows things up to keep people safe.While working on avalanche control in the Julian Alps, she stumbles across a delivery mix up in a consignment of explosives.After raising a complaint, she is warned, threatened, accused of professional incompetence and then suspended. Taking her complaint to Zagrovyl head office in Teesside, she narrowly escapes death only to be framed for murder.From the snowy slopes of Slovenia, to the wreckage of Chernobyl, Jaq must fight for her innocence, and find the truth, before it's too late.

About Guess Who:

At eleven years old, Morgan Sheppard solved the murder of a teacher when everyone else believed it to be a suicide. The publicity surrounding the case laid the foundation for his reputation as a modern-day Sherlock Holmes. He parlayed that fame into a gig as TV's "resident detective," solving the more typical tawdry daytime talk show mysteries like "Who is the father?" and "Is he cheating?"

Until, that is, Sheppard wakes up handcuffed to a bed in an unfamiliar hotel room. Around him, five strangers are slowly waking up, as well. Soon they discover a corpse in the bathtub and Sheppard is challenged to put his deductive skills to the test. One of the people in the room is the killer. He has three hours to solve the murder. If he doesn't find the killer, they all will die.

An ingenious, page-turning debut, Chris McGeorge's Guess Who matches the high-wire plotting of classic "locked room" mysteries into the unstoppable pacing of the modern-day thriller.

About All That Is Buried:

A parent's worst fear is realised when seven-year-old Libby Hallforth goes missing at a funfair; no witnesses, no leads, and no trace. Months later, after the trail for Libby has gone cold, DI Jake Porter and DS Nick Styles find human remains but that's just the tip of a gruesome iceberg. Everyone is a suspect, nobody can be trusted, including the Hallforth family. The chances of getting justice for Libby are fading fast, along with Porter's chances of stopping a killer before they strike again.